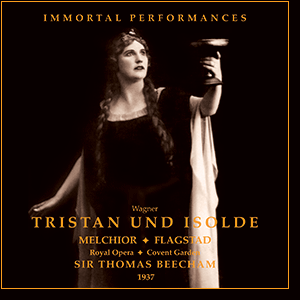 TRISTAN UND ISOLDE
Covent Garden
18 June 1937
Melchior, Flagstad, Klose, Janssen, Nilsson
Sir Thomas Beecham, conductor
Bonus:
TRISTAN UND ISOLDE
Act Two Complete, 22 June 1937
Covent Garden
Melchior, Flagstad, Nilsson
Schöffler, Branzell
Sir Thomas Beecham conducting
One of the greatest of the Melchior-Flagstad performances, our restoration is in superior sound to all previous releases, all of which are 2% or more off-pitch. This somewhat ages the voices, losing something of the youthful femininity in Flagstad's singing. We also offer (first time ever available) the original 18 June 1937 conclusion to Act I. However, Act III derives from the performance of 22 June 1937. In addition, we offer a fourth free CD of the complete Second Act of Tristan (22 June 1937). Other bonuses are: John Steane talks about this Tristan (BBC) and Vaughan Williams' Flourish for a Coronation is presented in which Beecham leads the London Philharmonic orchestra and chorus (2 April 1937).
We have given this memorable performance the best production values possible: two booklets (56 and 36 pages) with extensive articles about the performance, composer and work; photos, a track-related, detailed synopsis and Recording Notes that trace the extraordinary history behind this recording.
(4 CDs for the price of 3 — $43.50 for the album, plus postage.)
---
THE DREAM RING
Have not all the Ring recordings been more or less marred by the difficulty of finding a worthy company of principals? Could any regular opera-goer of the interwar period or even a younger listener, who uses his ears as keenly and perceptively as John Steane normally does, suppose that the post-war period has thrown up a Wotan to equal Schorr, a Sieglinde to approach Lotte Lehmann, or a Siegfried in the same league as Melchior. Imagine that a superlative stereo Ring were to exist with that cast, together with either Leider or Flagstad as Brünnhilde, can we doubt that, whether conducted by Bruno Walter or Furtwängler, or by Solti or Karajan or Goodall, it would wipe the floor with all contenders?
Desmond Shaw-Taylor
Gramophone, September 1974
Written inscription in one of John Steane's books, given to to Richard Caniell:
To Richard Caniell
Who turns dreams into reality
From John Steane
Who merely writes about them
15 May, 2003
---


---
If you have purchased this album, we will provide the replacement discs at no cost but the postage to mail them to you, or free with any order of other releases. Contact us to let us know you would like your CDs replaced. To order the Missa Solemnis album with remastered discs enclosed, click here.
---
Important Notice
There is a company putting out broadcast operas on CD using the name
Immortal Performances
They have issued the 1962 Turandot (Met); 1953 Butterfly (Met - Albanese, Conley); 1950 Traviata (Met - Albanese, Tagliavini) and the 1947 Romeo et Juliette (Met - Bjoerling, Sayao) employing sloppily laid out casts often incomplete or erroneous, poor sound, no notes and no indication as to where they are situated. This outfit is in no way connected to us. We wrote them c/o Berkshire Records which remainders this label but we have not heard from them.
Do not confuse this organization and its releases with our organization. Only those albums available on this website are ours.
"Hats off to Richard Caniell and Guild for building what is becoming one of the most distinguished catalogues of live historical performances."

Mortimer H. Frank
Classic Record Collector
Fall 2005



Click here for more details