Toscanini Date order
CLICK HERE FOR A FULL LISTING OF TOSCANINI ALBUMS ON OUR OWN LABEL.
Click on the images to enlarge
| | |
| --- | --- |
| | |
ARTURO TOSCANINI
BRAHMS CYCLE 1935
Philharmonic-Symphony Society of New York
Concerts of 24 February, 17 March, 31 March, 7 April
Derived from private recordings that have preserved four of the six concerts that were broadcast, our restoration offers Heifetz in the Violin Concerto and Horowitz in the First Piano Concerto, among many other works. On-pitch transfers with best sound. Another valuable addition to our Toscanini Legacy series.
From Colin Clarke's review published in FANFARE magazine's Nov/Dec 2014 issue:
"As a window into Toscanini's fire-hot Brahms, this can hardly be bettered. . . . There is more impetuosity in the orchestral contributions to the Heifetz account of the violin concerto, which acts as an indispensable complement to that violinist's Boston and Chicago commercial accounts. The warmth, both orchestrally and from the solo, comes through the intervening years. The violin (sound) is excellently preserved here. . . .
"Matching the high level of soloist for the violin concerto is Vladimir Horowitz for the First Piano Concerto. . . sonic problems here are particularly intrusive . . . yet, on the other side of the coin, the gossamer strings of the central slow movement serve surprisingly well . . . If the soloist and conductor are (famously perhaps) not ideally matched, there is plenty of fire from both in the finale. . . . this remains a stimulating and unmissable performance.
"Toscanini followers will need no prompting to purchase this set. The sterling work at Immortal Performances continues."
---
RARE RECORDINGS FROM THE NEW YORK PHILHARMONIC SERIES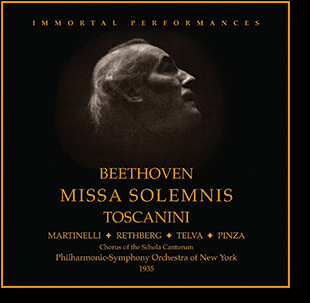 ARTURO TOSCANINI
Philharmonic-Symphony Orchestra
of New York
28 April 1935
MISSA SOLEMNIS
Martinelli, Rethberg, Telva, Pinza
Chorus of the Schola Cantorum
Bonus:
1935 Met Simon Boccanegra
Act I, Scene 1 complete
Rethberg, Martinelli, Pinza, Tibbett
Harvey Sachs , in his famed book about Toscanini, writes of the three Philharmonic performances of the music that they were:
" . . . of breathtaking depth and majesty; they are
relaxed and flexible yet precise and fluent"

This important performance, previously published in exceedingly poor, off-pitch sound, is here offered in a sonically restored edition. The booklet text is by John Steane, the article about the composer and the Missa is by Richard Caniell, as are the extensive Recording Notes. The bonus offers the complete Act I, Scene 1 of Simon Boccanegra, Met 1935, a conjunction suggested by Mr. Steane as an interesting contrast in hearing two performances by Martinelli, Rethberg and Pinza in the same year. The album also offers two short interviews with Rethberg and Martinelli about their experience with Toscanini, together with photos of the singers in both broadcasts making this an album to treasure.
IMPORTANT NOTICE: NEWLY REVIEWED, COMPLETELY REMASTERED DISCS
The 1935 Missa Solemnis conducted by Toscanini means the world to our Sound Engineer, Richard Caniell, and he has spent untellable hours, weeks, from month to month over the past three years on it. Even after we released it and it was reviewed and purchased by many music lovers, he nonetheless kept returning to it, hoping to yet improve its sonics. Recently he achieved a significant break-through in sound improvement – in clarity, in tone, in the divisions between the choral voices and the orchestra, and in more natural sound (which was greatly injured by the private recording and AM transmission). We now offer this re-mastered version, which includes a brief booklet dedicating the album to John Steane, as well as describing the improvements. (See link below to reviews of this new edition in Fanfare's pages). For those who have previously purchased the earlier edition from us, the two remastered CDs will be provided for a minimal cost-covering fee of $10.00, to be included with some other of your purchases, or with the addition of postage costs if obtained by itself. (Contact us.)

(Click here to read more details.)
Top
---
Click on the images to enlarge
| | |
| --- | --- |
| | |
ARTURO TOSCANINI
Philharmonic-Symphony Society of New York
Two Complete Concerts
2 February 1936 Concert - Carnegie Hall
Bach: Brandenburg Concerto No. 2
Brahms: Concerto No. 2 in B-flat major
­­Robert Casadesus, pf
Beethoven: Coriolan Overture
Beethoven: Symphony No. 4 in B-flat major
Bonus: Beethoven – Triple Concerto (1942)
Complete Concert 19 April 1936
CLICK HERE FOR A FULL LISTING OF TOSCANINI ALBUMS ON OUR OWN LABEL.





All Debussy




Le Martyre de Sai­nt-Sébastien: Le Cour d'Lys

Prélude à l'après-midi d'un faune

Nuages - Fêtes - Ibéria




La Damoiselle Élue

(Bidú Sayão - Rose Bampton)

Women's Chorus of the Schola Cantorum


La Mer


Four discs for the price of three




This private off-the-air recording of a memorable concert in Toscanini's last year with the Philharmonic has been very extensively worked upon to correct many pitch variances, minimize surface noise, fill in turnover gaps, and improve the dynamics that were compressed by the radio broadcast limiters. While in better sound than some home-recorded discs, the surface noise can rather high in some places, and while these don't offer sonics of modern recordings, they are all we have and are, thus, a treasurable part of our cultural legacy.




The bonus Beethoven Triple Concerto, though noisy, has remarkable presence and focus of sound, hugely improved over the gravely over-filtered Naxos version that we endured with their re-engineering of our restoration, now released in this album with much relief.




The All Debussy concert offers somewhat better tone and dimension than what has been previously available, with many pitch problems corrected, and dynamics expanded to compensate the poor microphone placement and radio limiters of the time. The magazine Musical America devoted an entire page to this concert, its reviewer (Oscar Thompson) writing that ". . . as a program, this was the outstanding novelty of the orchestral year," one which was "among the most distinctive of Toscanini's American achievements . . . in finish, balance of parts and beauty of tone, Toscanini's orchestral performance could scarcely have been surpassed."



Top
---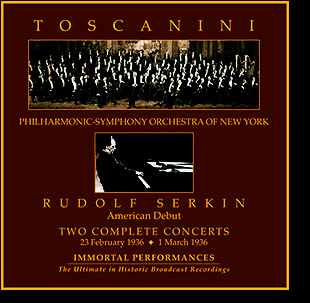 ARTURO TOSCANINI
PHILHARMONIC-SYMPHONY OF
NEW YORK
COMPLETE CONCERT: 1 March 1936
Weber - Verdi - Debussy
Goldmark - Wagner
with Dusolina Giannini, soprano
Milton Cross, commentator
and
COMPLETE CONCERT: 23 February 1936
Beethoven: First Symphony
Beethoven: Piano Concerto No. 4
Mozart: Piano Concerto No. 27
Rudolf Serkin, pf (American Debut)
Bach: Toccata and Fugue - Orchestrated by Sir Henry Wood
(with full broadcast commentary)
The legacy of private recordings made of the New York Philharmonic broadcasts of the 1935 and 1936 seasons when they were directed by Toscanini have had little circulation and those which have been reproduced have been in appallingly bad sound (with gaps every 15 minutes while the private recordist changed discs). The reasons for this dismal state of affair is set forth in this album but there is a bright side: our discovery of the first generation copy of the original lacquers. These provide superior sonics and, while the lacquers are sporadically noisy, a rich experience of the two concerts is now possible. There are no gaps and broadcast commentary is included for both performances. The booklet offers extensive texts about the performances and includes detailed recording notes. This is the first in a planned series of Toscanini New York Philharmonic restorations we will be releasing, albums that we believe will justly be considered the ultimate editions.
Top
---
FROM TOSCANINI'S PERSONAL COLLECTION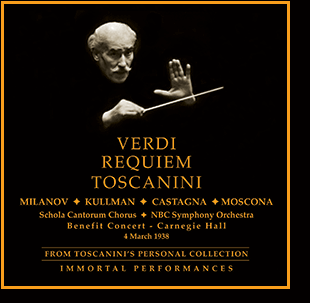 ARTURO TOSCANINI
NBC SYMPHONY ORCHESTRA
4 March 1938
VERDI REQUIEM
Milanov, Kullman, Castagna, Moscona, Westminster Choir
Benefit Concert - Carnegie Hall
Bonus:
All-Verdi NBC Concert, 31 January 1943
Peerce, Della Chiesa, Moscona / chorus
Two Complete Concerts
"Of the six recordings of Toscanini's performances of the Verdi Requiem known to me, the 1938 NBC performance seems to me in many ways the most beautiful and most remarkable of them all."
Harvey Sachs
One of Toscanini's most memorable achievements with this great work, never broadcast in the U.S., in good sound. Perhaps Milanov's greatest singing of this music. This virtually unknown performance with the NBC Symphony, from Toscanini's personal collection, was passed down from Toscanini to Richard Gardner, his sound engineer, who in turn gave it to our archivist and sound engineer, Richard Caniell. A stupendous performance! Bonus: All Verdi NBC Concert, 31 January 1943 with Peerce, Della Chiesa, Moscona and chorus. The concert includes music from Forza del Destino, Nabucco, Traviata, Otello and the first U.S. performances of Hymn of the Nations in an electrifying performance. Much of this program has not been previously released.
Top
---
Click on the images to enlarge
| | |
| --- | --- |
| | |
ARTURO TOSCANINI
VERDI REQUIEM
BBC Choral Society
BBC Symphony Orchestra
Milanov - Roswaenge - Thorborg - Moscona
Broadcast 27 May 1938
with commentary and ovation
Bonus
Beethoven Fourth Symphony in B-Flat Major, Op. 60
BBC Symphony Orchestra
Broadcast 19 May 1938
with commentary and ovation
"The Immortal Performances restoration of the 1938 Verdi Requiem BBCSO is startlingly better than Testament and shows what has been greatly missing until now - its fine presence and frequency range."
Christopher Dyment, author of Toscanini in Britain
Best sound over all previous editions. Extensive notes and broadcast commentary and ovations.
Recently, Mr. Caniell's attention returned to this BBC 1938 Verdi Requiem broadcast previously released in a good transfer by Testament, though our sound engineer had different ideas of how it should sound. Testament's exceedingly wide distribution cancelled his intent to work on, and release, the BBC until now, 10 years later. During these intervening years of enlarged experience with restoration techniques, Mr. Caniell re-affirmed that while the Testament edition was good, its sound was compressed in a way that could be made far better.
Mr. Caniell's transfer is taken from the tapes given to him by Richard Gardner, Toscaninni's sound editor. Mr. Caniell writes in his Recording Notes: "What you have in your hands is the result of my endeavor to open up the tonal spectrum, reduce the thick bottom end, and enliven the performance by restoring lost overtones. In addition, I endeavored to further restore the dynamics between piano and forte, recreating, so far as possible, the heaven-storming crescendi that the Old Man achieved with the BBC forces."
Top
---
Click on the images to enlarge
| | |
| --- | --- |
| | |
ARTURO TOSCANINI
NBC Symphony Orchestra
Two Complete Concerts
20 April 1940 Concert
Elgar: Introduction and Allegro for Strings, Op. 47
Mozart: Symphony No. 41 "Jupiter" in C Major, K. 551
Dvorak: Scherzo Capriccioso, Op. 66
Mussorgsky: Pictures at an Exhibition
9 April 1944 Concert
Wagner: Parsifal Prelude and Good Friday Spell
Mendelssohn: Concerto for Violin and Orchestra in E Minor, Op. 64
Jascha Heifetz, violin
Bonus: Rehearsals for the 20 April 1940 Concert
Very good sound, includes a free third CD of rehearsal portions of the four works heard on 20 April 1940. The 9 April 1944 Wagner has improved sound and the Mendelssohn Violin concerto (Heifetz) is on pitch.
From David Canfield's review published in FANFARE magazine's Nov/Dec 2014 issue:
"This set is recommended highly, and not only to Toscanini enthusiasts who will particularly welcome its issuance, but to all aficionados of great conducting and historical musical documents.
"The sound is rich and full, and rather astonishing for the technology of the era, given its presence and vitality.
"The Elgar Introduction and Allegro that opens the concert is a vibrant reading, with the solo string quartet of the NBC orchestra playing with almost a Heifetz-like intensity. . . Toscanini extracts every ounce of passion from his forces in this dynamic performance.
"Toscanini reduced the size of his string section for the following "Jupiter" Symphony of Mozart to maintain proper balance between the sections. . . . Every line herein is clearly delineated and every woodwind interjection clearly audible in Toscanini's meticulous balancing. [My] colleague [Mortimer] Frank is quoted in the program notes as preferring this performance of the "Jupiter" to the two later Toscanini readings captured on tape, calling this performance 'free from excessive haste, texturally transparent, and remarkably flexible in rhythm.' "
[The estimate of Pictures of an Exhibition (Orchestrated by Ravel) is given considerable length in this review, so you are referred to the complete text. Other aspects of the album connected to the 9 April 1944 concert and the Bonus disc of rehearsal excerpts are also set forth in the complete text of this lengthy assessment.]
Top
---
Click on the images to enlarge
| | |
| --- | --- |
| | |
ARTURO TOSCANINI
NBC Symphony Orchestra
All Tchaikovsky Benefit Concert
Voyevoda Overture, Op. 3
Symphony No. 6 in B Minor, Op. 74 (Pathétique)
Concerto No. 1 in B-Flat Minor, Op. 23
Vladimir Horowitz, pf
NBC Symphony Orchestra
19 April 1941
Symphony No. 6 in B Minor
Rehearsal Extracts of 1st and 4th Movements
Best sound over all previous editions. Extensive notes and broadcast commentary and ovations.
From the Recording Notes by Richard Caniell: "This 1941 broadcast of the Sixth Symphony and Piano Concerto was released by us through Naxos, but they omitted the Voyevoda and the commentary without our knowledge or permission, and the sound was denigrated in a loss of overtones, in some sound compression of the tuttis and in a thickening of the bottom end, hence this release of the complete concert."
"Our original tape of this broadcast from Gardner revealed the transfer from the lacquers to be good, the surface noise sporadic and not excessive and the dynamics needing only a little emphasis to reverse the leveling which the original broadcast engineers imparted to the sound transmission. Its many pitch problems were solved by the young conductor John Sullivan, who is our music consultant. We believe the All-Tchaikovsky Benefit Concert to be a worthy addition to our knowledge of Toscanini's involvement with these works and represented the first occasion when Horowitz and Toscanini collaborated in the First Piano Concerto."
Top
---
Click on the images to enlarge
ARTURO TOSCANINI
NBC Symphony Orchestra
All Wagner Benefit Concert
Lauritz Melchior - Helen Traubel
Carnegie Hall - 22 February 1941
Lohengrin - Tannhäuser - Die Walküre
Götterdämmerung
Bonus: Rienzi Overture, The Flying Dutchman Overture (with rehearsal segment), Tannhäuser Prelude to Act III (Original full length version)
Three discs for the price of two
Remastered from a new source with a substantial improvement in sonics over our previous Guild Music release. Plus: two rehearsal portions from Die Walküre. Bonus: Overture to Rienzi, Flying Dutchman rehearsal & broadcast, Tannhäuser Prelude Act III
Top
---
Click on the images to enlarge
| | |
| --- | --- |
| | |
RED CROSS BENEFIT CONCERT
New York Philharmonic and NBC Symphony Orchestras
Leonard Warren, Zinka Milanov, Jan Peerce, Nan Merriman, Nicola Moscona
600 Voice Chorus
WAGNER - VERDI - SOUSA TOSCANINI
Madison Square Garden - 25 May 1944
Of all the many wartime benefit concerts conducted by Toscanini, this one, performed in the old Madison Square Garden before an audience of over 19,000 music lovers, was the most stupendous. For this occasion the New York Philharmonic and the NBC Symphony were fused into one orchestra of over 200 musicians. With a chorus of 600 voices, and with famed soloists from the Metropolitan Opera, this is a concert of historic importance. Superb sound; extensive program notes. The bonus presents the VE Day broadcast in which Toscanini conducted the Beethoven Fifth Symphony
This immense concert offers, among other memorable performances, what may be the most electrifying, deeply moving performances of the Liebestod from Tristan und Isolde ever conducted by the Maestro. For those who revere these artists, musicians and conductor, this is the ultimate, never to be forgotten, memento of an unparalleled musical event.
Top
---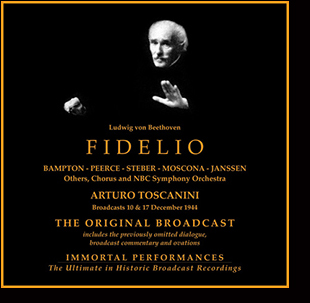 ARTURO TOSCANINI
NBC SYMPHONY ORCHESTRA
Broadcasts 10 and 17 December 1944
FIDELIO
Rose Bampton, Jan Peerce, Eleanor Steber, Nicola Moscona, Herbert Janssen, Sidor Belarsky, Joseph Laderoute
Full Spoken Dialogue
Original broadcast with commentary
Bonus: Leonore No. 2, 25 September 1945
Rose Bampton: Radio Interview
The Toscanini broadcast of Fidelio, though celebrated on many grounds was also deplored because broadcast scheduling required that the dialogue be omitted. Here at last is the ultimate edition with the dialogue restored, together with the original Abscheulicher (we replaced the bad note sung by Bampton). RCA Victor, in their release, replaced the entire aria with a later recording (sung without an audience) in its LP/CD release. Our release includes full broadcast commentary and ovations. The booklet offers texts about the singers and performance, extensive recording notes and rare photos. The bonus is a dynamic performance of the Leonore No. 2 taken from a 1944 concert that was not broadcast. The concluding bonus is an interview with Rose Bampton in which she talks about the occasion Toscanini selected her to sing Leonore.
Top
---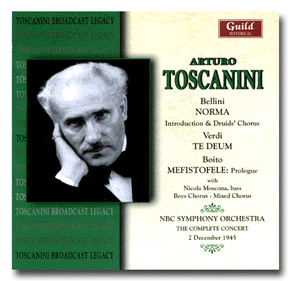 ARTURO TOSCANINI
NBC SYMPHONY ORCHESTRA
2 December 1945
THE COMPLETE CONCERT
Bellini: Norma Introduction and
Druid's Chorus
Verdi: Te Deum
Boito: Mefistofele prologue
Nicola Moscona, bass
With Mixed Chorus, Boys Chorus
Toscanini first conducted Norma in 1892 and the Italian premiere of Verdi's Te Deum, the score which he received from the hand of the aged composer in 1898. He was also world-famed for his recreation of Boito's Mefistofele with Chaliapin, thus this concert brings together important elements of the great Maestro's past. The concert, in varying sound, offers the Boito work in stupendous sonics and represented a fascinating and valuable glimpse into Toscanini's past when some 50 years earlier, he was greatly famed as an operatic conductor. The program notes are by Bill Youngren with photos by Robert Hupka.
Top
---
Click on the images to enlarge
LUCERNE CONCERTS
La Scala Orchestra
BEETHOVEN - WAGNER - R. STRAUSS TOSCANINI
5, 7 July 1946
The 7th of July Concert, published complete for the first time, is in excellent sound. This album also includes a performance of Strauss' Death and Transfiguration, professionally recorded at the Festival. (It is erroneously stated in our booklet material that this Death and Transfiguration is a world premiere – we have since learned this is not the case.) The bonus offers two performances: Smetana's The Moldau and Strauss' Don Juan from the 1949 Venice Music Festival in less good sonics. Booklet text concerning the performances, recording notes and photos, combine to present a vivid aural portrait of Toscanini's first European performances after the war.
Top
---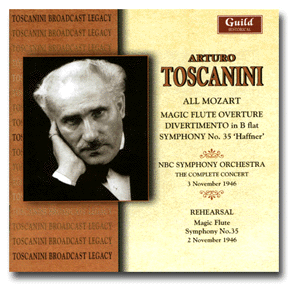 ARTURO TOSCANINI
NBC SYMPHONY ORCHESTRA
3 November 1946
ALL MOZART
THE COMPLETE CONCERT
The Magic Flute Overture
Divertimento No. 15 for Strings in B Flat
Symphony No. 35 in D (Haffner)
Also:
Rehearsal: 2 November 1946)
The Magic Flute Overture
Symphony No. 35
Toscanini's revered performance of these works and the rehearsal that preceded it provide an enthralling insight into the Maestro's vividly expressive and passionate music-making. This 2-disc set includes an interesting article by William Youngren about Mozart's music and the rehearsal, together with Robert Hupka's renowned photographs. For those who esteem the great Maestro's art, this release should not be missed.
Top
---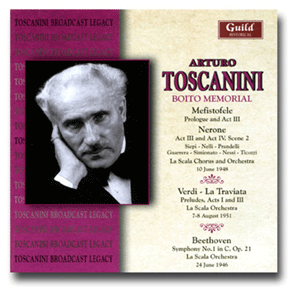 ARTURO TOSCANINI
CHORUS AND ORCHESTRA OF LA SCALA
Boito Memorial
10 June 1948
Mefistofele : Prologue and Act III
Nerone : Act III and Act IV, Scene 2
7-8 August 1951
La Traviata , Prelude, Act I & III
24 June 1946
Beethoven Symphony No. 1 in C, Op 21
Toscanini and Boito were close friends and the Maestro was an admirer of Boito's genius,conducting celebrated performances of Mefistofele with Chaliapin and, in the late twenties, with De Angelis,Gigli and Favero. In 1924 Toscanini conducted the world premiere of Boito's long-awaited Nerone and it is this background that gives the Toscanini La Scala Memorial to Boito such added resonance. This is the final occasion when Toscanini conducted a staged performance and fortunately it was broadcast. The recording suffers from some strange microphone balances in Mefistofele but the Nerone is quite focused and delivers the score and the singing with considerable impact. Herva Nelli, Toscanini's Desdemona in his NBC Otello , is remarkable in both operas, while Siepi, Prandelli, Guerrera and Simionato bring their memorable voices to what was a truly historic occasion. With broadcast commentary (in Italian) and ovations, backed up by fascinating booklet notes by London Green, makes this release an enormously important one in Guild's Toscanini series.
Top
---