Alphabetical Listing
---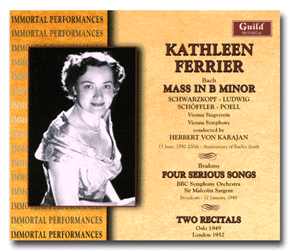 MASS IN B MINOR – BACH
Kathleen Ferrier
Vienna Symphony (15 June 1950)
Schwarzkopf, Ludwig, Schoeffler, Poell / Herbert von Karajan
Brahms: FOUR SERIOUS SONGS
BBC Symphony Orchestra (12 January 1949)
Two Recitals:Oslo 1949 and London 1952
This Guild release commemorates the 50th anniversary of the death of this beloved, world-famous soprano. It offers the complete broadcast of the Bach B Minor Mass from 1950 on the 200th anniversary of Bach's death, in which Ferrier's singing of the Agnus Dei brought the implacable Von Karajan to tears while he conducted. The album also includes the broadcast, with commentary, of Ferrier singing Brahms' Four Serious Songs, conducted by Sir Malcom Sargent and two complete recitals from 1949 and 1952. The booklet offers an interesting article by Derek Adlam on the singer and the performances together with texts for the Bach and Brahms works.
Top
---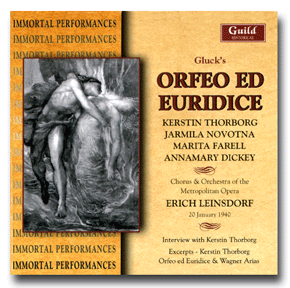 ORFEO ED EURIDICE - GLUCK
Chorus and Orchestra of the Metropolitan Opera (20 January, 1940)
Thorborg, Novotna, Farell, Dickey / Leinsdorf
The role of Orfeo was Thorborg's favorite role, one which greatly suited this celebrated contralto's voice and temperament. She is heard in a vividly recorded, full-sounding transfer of the original transcriptions, with commentary by Milton Cross and all the curtain calls so justly earned bythese singers. The album also offers an extensive interview with Madame Thorborg about her Met career and a bonus of certain rare discs that first introduced her remarkable voice to music lovers.
Top
---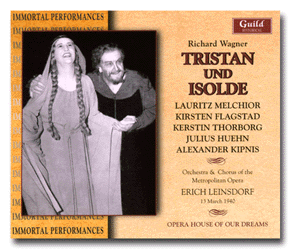 TRISTAN UND ISOLDE
Chorus and Orchestra of the Metropolitan Opera (13 March 1940)
Melchior, Flagstad, Thorborg, Huehn, Kipnis / Leinsdorf
This memorable performance, a benefit for the Metropolitan Opera Fund, offers the greatest box office sensation of the era — Melchior and Flagstad in their world-famed portrayals of the lovers that an ill-starred fate could not keep apart. With the equally renowned Kerstin Thorborg as Brangaene, the tender Kurvenal of Julius Huehn and the immense stature and vocal beauty of Alexander Kipnis as King Marke (replacing Emanuel List), this is an unforgettable performance. Some noisy sides do not deduct from the recording´s good sound. Also included is the broadcast commentary and pandemonious ovations for each of the singers, as well as a touching intermission program about Act II of Tristan. Guild´s lavish booklet offers extensive articles about the singers, the performance, the composer and the work as well as a detailed and illustrated synopsis plus biographies of the artists. Taken together, the whole of it recreates this historic occasion with enthralling vividity. Another shining ray from the Golden Age of Wagner at the Met.
Top
---