Newest Releases
RELEASES ON OUR OWN LABEL
---
Click on the images to enlarge
Verdi
Aida
Gina Cigna - Beniamino Gigli - Ebe Stignani - Ettore Nava - Tancredi Pasero
Chorus and Orchestra of La Scala, in Berlin
Victor De Sabata, 22 June 1927
BONUS:
La Gioconda excerpts (1927,1934) and Arias sung by Gigli
Cigna - Gigli - Basiola - Pederzini; also Nicolai and Pasero
Cigna and Gigli's best singing of these roles in a complete performance. Very good sound for the source. Act IV is a composite of 1937 & 1939 performances.
Top
---
Click on the images to enlarge
Verdi
AIDA
Cigna Cigna - Giovanni Martinelli - Bruna Castagna - Carlo Morelli - Ezio Pinza
Chorus and Orchestra of the Metropolitan Opera
Ettore Panizza, 1937
GINA CIGNA MET DEBUT
This 1937 performance is justly celebrated and has been offered by other labels but never in the sonics heard in our 2012 restoration. Articles and biographies about the singers, 23 rare photos, broadcast commentary and curtain calls. Bonus: Martinelli talks about Radames and Verdi, plus little known Martinelli recordings from Aida and Act V of Faust recorded in 1926.
Top
---
Click on the images to enlarge
| | |
| --- | --- |
| | |
Giuseppe Verdi
UN BALLO EN MASCHERA
Björling - Milanov - Svéd - Castagna - Moscona
Chorus and Orchestra of the Metropolitan Opera
Ettore Panizza, 1940
Our newest restoration with commentary and curtain calls.
Texts by Stephen Hastings, author of The Björling Sound. (2 CDs)
"…In this newly-restored recording Richard Caniell has done a magnificent job in recapturing the sound of the voices as projected in the opera house."
Stephen Hastings
From the Program Notes
"My work to restore this Ballo was to enlarge the tonal values and recreate the dynamics between piano and forte, which the recording limiters flattened. Sound emerges that is comparable to commercial recordings of this era. What one hears documents beyond argument that Björling was among the greatest tenors of the previous century, and, in certain roles, the best voice ever heard in recordings. It has been a privilege for us to work on this and to share it with you as a part of the celebration of Verdi's middle-period works."
Richard Caniell
From the Recording Notes
Top
---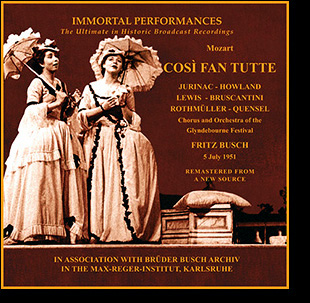 In Association with Brüder Busch Archiv
COSI FAN TUTTE
Chorus and Orchestra
of the Glyndebourne Festival
(5 July 1951)
Sena Jurinac, Richard Lewis, Marko Rothmueller, Sesto Bruscantini, Alice Howland, Isa Quensel
Conducted by Fritz Busch
New Edition in Superior Sonics
Our premiere release of this Cosi (Guild 2303) was given much critical acclaim, despite its inferior sonics, as the performance is among the most memorable on disc. Now we return with the same performance in superior sound in a restoration we made of the master held by the Busch Brother Archive in Germany and released under their authority. To hear Jurinac, Lewis and the others directed by Fritz Busch is one of the most delectable experiences one can have of this Mozart masterpiece. The booklet offers new texts on the singers and performance, an article about Mozart and Cosi and recording notes. This is one of the great performances - and shouldn't be missed on any account.
Top
---
Click on the images to enlarge
Busoni
DOKTOR FAUST
Ambrosian Singers, London Philharmonic Chorus and Orchestra
Dietrich Fischer-Dieskau, Richard Lewis, Heather Harper, John Cameron, Ian Wallace
Sir Adrian Boult Royal Festival Hall, 13 November 1959
THE COMPLETE BROADCAST
and
Busoni
ARLECCHINO
Glyndebourne Festival Chorus and Orchestra
Kurt Gester, Ian Wallace, Geraint Evans, Fritz Ollendorff, Elaine Malbin, Murray Dickie
John Pritchard July 1954

With a remarkable cast and superlative conducting by Sir Adrian Boult, this Doktor Faust is a cherishable performance preserved in good sound. Our album offers the entire broadcast with no break-offs (45 minutes more than LPO). Imposing and memorable; not to be missed.
The Glyndebourne 1954 Arlecchino is a slyly witty, marvelously sung, richly melodic, brilliantly orchestrated one act opera that many consider a masterpiece. As one music critic writes:
" Arlecchino and Doktor Faust are quintessential Busoni and taken together, constitute his testament. Arlecchino is called a 'comedy of masks' and projects Busoni's persona of wit, esprit and skepticism — divine sarcasm — in its briefest, most allusive manner . . . for concision and wealth of invention, Arlecchino does not suffer from comparison with Falstaff nor with the most mercurial pages of Berlioz."
Adrian Corleonis
Fanfare
LIBRETTOS:
Doktor Faust
Music and words by Ferruccio Busoni

Posthumous World Premiere, Dresden, 21 May 1925. Soloists were Erich Ponto, Theo Strack, and Meta Seinemeyer. Conducted by Fritz Busch. Click here to download the libretto (English translation by Edward J. Dent).



Arlecchino
Music and words by Ferruccio Busoni.

First performance 11 May 1917 in Zurich. Click here to download the libretto (English translation by Nicolai Rabaneck).




Top

---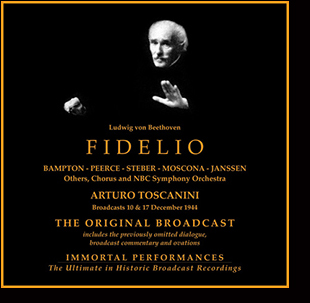 ARTURO TOSCANINI
FIDELIO
Chorus and Orchestra of the NBC Symphony (Broadcasts 10 and 17 December 1944)
Rose Bampton, Jan Peerce, Eleanor Steber, Nicola Moscona, Herbert Janssen, Sidor Belarsky, Joseph Laderoute
Full Spoken Dialogue
Original broadcast with commentary
Bonus: Leonore No. 2, 25 September 1945
Rose Bampton: Radio Interview
The Toscanini broadcast of Fidelio, though celebrated on many grounds was also deplored because broadcast scheduling required that the dialogue be omitted. Here at last is the ultimate edition with the dialogue restored, together with the original Abscheulicher (we replaced the bad note sung by Bampton). RCA Victor, in their release, replaced the entire aria with a later recording (sung without an audience) in its LP/CD release. Our release includes full broadcast commentary and ovations. The booklet offers texts about the singers and performance, extensive recording notes and rare photos. The bonus is a dynamic performance of the Leonore No. 2 taken from a 1944 concert that was not broadcast. The concluding bonus is an interview with Rose Bampton in which she talks about the occasion Toscanini selected her to sing Leonore.
Top
---
A TRULY REPRESENTATIVE PERFORMANCE FROM THE LATTER DAYS OF THE GOLDEN AGE AT THE MET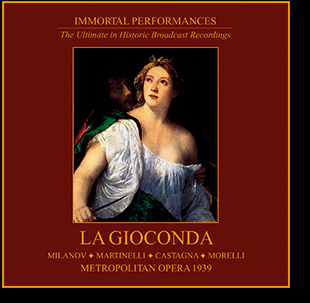 LA GIOCONDA
Chorus & Orchestra of the
Metropolitan Opera
30 December 1939
Milanov, Martinelli, Castagna, Morelli, Moscona, Kaskas
Ettore Panizza, conductor
Bonus:
Never Previously Published:
Interview with Zinka Milanov, 1959
Also: Martinelli speaks of Martinelli
and
Ponchielli's I Lituani: Finale to Act III
The 1939 Met broadcast offered some of the most memorable singing by Milanov ever recorded. This, with the plenitude of Martinelli's Enzo recreates the opera with stirring dramatic eloquence. Offers the best sound, with commentary by Milton Cross. 3 CD set with a 40 page booklet, an article about the performance (by John Steane) and the composer (by Richard Caniell), as well as a full track-related synopsis, biographies and rare photographs. A great memento of a much revered era.
Top
---
Click on the images to enlarge
| | |
| --- | --- |
| | |
Wagner
GOETTERDAEMMERUNG
Act II complete
Lauritz Melchior - Frida Leider - Herbert Janssen - Ludwig Weber
Chorus and Orchestra of the Royal Opera, Covent Garden
Wilhelm Furtwangler, 1938
The complete Act II with the most illustrious Wagnerian singers of the age conducted by Furtwängler in an electrifying realization. Very good sound, extensive booklet notes and photos. Includes as Bonus: Frida Leider sings two operatic arias, brief interview and two songs of Schumann.
Top
---
FROM THE "OPERA HOUSE OF OUR DREAMS" SERIES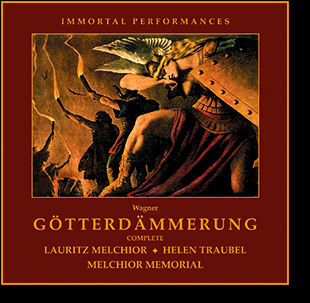 GÖTTERDÄMMERUNG
Chorus & Orchestra of the
Metropolitan Opera
MELCHIOR MEMORIAL
LAURITZ MELCHIOR - HELEN TRAUBEL
Janssen, Resnik, Harshaw
Ernster and Pechner
Various Conductors
Commentary by Milton Cross
Bonus:
Interview with Lauritz Melchior in his 80s
Click here to see back of album
A much laboured upon restoration and re-creation of Melchior's final performance as Siegfried which occurred on 20 December 1948 at the Metropolitan Opera. Superb sound overall. This 4 CD set comes with a 56 page booklet, with articles about the performance and the composer, as well as a full track-related synopsis, biographies and rare photographs. An unforgettable memento of the final days of the Wagner Golden Age at the Met.
Top
---
Click on the images to enlarge
Gretchaninoff
Missa Oecumenica
World Premiere
Maria Kurenko - Roland Hayes - Dorothy Cornish - Robert Collins
Boston Symphony Orchestra
Serge Koussevitzky, 26 February 1944
Never previously available in any medium. Good sound.
ALSO:
Gretchaninoff Songs
Maria Kurenko - Nina Koshetz
With the composer at the piano
Top
---
Click on the images to enlarge
Mozart's
IDOMENEO
complete
Glyndebourne Festival 1951
Sena Jurinac - Richard Lewis - Birgit Nilsson - Leopold Simoneau
FRITZ BUSCH In Association with Bruder Busch Archiv

Fritz Busch was a masterful conductor and his performances at Glyndebourne during 1950 and 1951 are each unforgettable events. This Idomeneo, which followed his incomparable Cosi fan Tutte, both starred Sena Jurinac. The Idomeneo performance cast her with Leopold Simoneau and Richard Lewis, while Birgit Nilsson is heard in her first appearance outside Sweden. This album offers our restoration of Idomeneo, made for the Bruder Busch Archiv in Germany, under whose authorization it is now released. With extensive program notes and rare photos, we also offer a bonus (disc premiere) of the rehearsal of a Mozart Concert Aria sung by Jurinac with Busch conducting. Heard in good sound, this is a Mozart operatic treat music lovers can't afford to miss.
Top
---
INTRODUCING OUR FAMOUS VOICES FROM THE PAST SERIES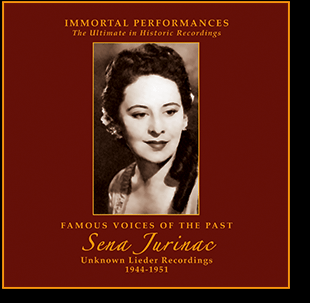 SENA JURINAC
UNKNOWN LIEDER RECORDINGS
1944-1951
Greig, Respighi, Wagner, Schubert, Mendelssohn, R. Strauss, Marx, Reger
Also
R. Strauss Four Last Songs
Radio Copenhagen / Fritz Busch
1951 (Never before published)
OPERATIC ARIAS AND DUETS
1949-1952
Gasparone - Fledermaus - Nozze - Carmen - Bohème
Madame Butterfly - Bartered Bride - Otello - Manon
One of the great voices of the latter half of the past century. Jurinac is heard in previously unknown recordings of lieder, recorded between 1945 and 1951. The second CD is composed of arias and duets from famous operas. Includes an article about Sena Jurinac by Tully Potter, "The Early Prime of Sena Jurinac: A Personal View". First in a new series.
CLICK HERE for German texts and translations of most of the Unknown Leider (Sena Jurinac) on CD 1.
Top
---
Click on the images to enlarge
| | | |
| --- | --- | --- |
| | | |
Wagner
LOHENGRIN
Melchior - Lehmann - Schorr - Lawrence - List
Chorus and Orchestra of the Metropolitan Opera 1935
Artur Bodanzky, 1935
In Honor of the Wagner Bicentennial
This historic performance is heard in our 2013 restoration in superior sound to all previously released CD albums by various labels, though it still is afflicted with the compressed 1935 transmission characteristics. Our restoration is taken from the original transcription, with broadcast commentary and curtain calls, and offers a booklet containing extensive articles about the performance, singers, and composer, together with rare photos. Truly, the ultimate edition.
From Henry Fogel's review, Fanfare Nov/Dec 2013:
"This is another stunning restoration of historic material by Richard Caniell and Immortal Performances . . . He has worked on it over many years.
"Lehmann's voice is positively thrilling throughout . . . a performance of nobility and humanity . . . conveyed here in a wholly convincing manner, and with unfailingly glorious tone production and phrasing. Marjorie Lawrence is a splendid Ortrud. . . . Schorr's voice shows a few signs of wear . . . but the flaws are minor when compared with the depth of his characterization and deep musicality of his singing, and the variety of inflection and color he brings to Telramund. . . . Assessing Melchior's performance, this is the very best of those that have survived.
"A direct comparison of this (album) with the Myto and the Melodram releases of the same performance demonstrate the superiority of the Immortal Performances release. . . The set also includes Milton Cross's commentary and curtain calls.
"The filler includes the end of the first act of Die Walküre, from their "Dream Ring" (with Melchior and Lehmann) . . . that is as good as it gets. . . and then five Schumann duets . . . English texts are provided . . . with singing that is as beautiful as you would expect it to be from Melchior and Lehmann."
Top
---
Click on the images to enlarge
Wagner
Lohengrin
Lauritz Melchior, Elisabeth Rethberg
Kerstin Thorborg - Julius Huehn - Emanuel List - Leonard Warren
Chorus and Orchestra of the Metropolitan Opera
Erich Leinsdorf, 1940
From new sources with commentary.
The Original Broadcast
Perhaps the best sounding example of this music drama as heard during the latter days of the Golden Age of Wagner at the Met, this broadcast offers the finest Lohengrin of the century, Lauritz Melchior, heard with Elisabeth Rethberg, who give an electrifying performance as Elsa. The searing intensity of her singing in the Bridal Chamber scene won't soon be forgotten.
We finally located a first transfer of the original broadcast transcriptions, which includes the commentary by Milton Cross and curtain calls. The superiority we heard over our previous Guild release (2004), included noiseless full-toned sonics delivering considerable clarity and impact. This led us to release this broadcast anew. We can say with certainty, this is the ultimate edition.
Top
---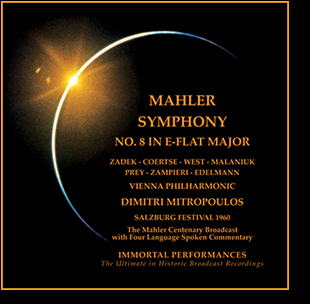 MAHLER SYMPHONY NO. 8
Symphony of a Thousand
Mimi Coertse - Hilde Zadek - Ina Maliniuk Lucrezia West - Giuseppe Zampiere - Herman Prey - Otto Edelmann
Conducted by Dimitri Mitropoulos
Vienna State Opera Chorus
Singverein Gesellshaft der Musikfreuke, Vienna
Vienna Boys Choir - Vienna Philharmonic Orchestra
Salzburg Festival 1960
One of the great performances of Mahler's monumental work in an edition that soars in sonic splendor over all the previous editions we have auditioned. This offering retains the four-language commentary from the Salzburg Festival recreating the historic occasion when Mahler's greatest work was broadcast throughout Europe, Scandinavia, Africa, the US, Canada and South America. The bonus offers the andante movement from Mahler's Sixth Symphony and the final movement of Mahler's Ninth Symphony also conducted by Mitropoulos. The booklet offers texts about the performance, the composer and the work together with extensive recording notes. This really is the ultimate edition.
Top
---
Click on the images to enlarge
Wagner
Die Meistersinger
Friedrich Schorr - Elisabeth Rethberg - René Maison- Karin Branzell - Eduard Habich
Chorus and Orchestra of the Metropolitan Opera
Artur Bodanzky, 22 February 1936
Our 2013 restoration of this famed broadcast now offers good sound for this era and source. Includes commentary and curtain calls, extensive notes and rare photos; one of the truly great performances!
Top
---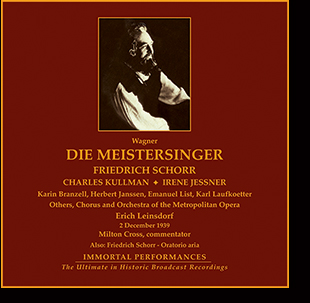 DIE MEISTERSINGER
Chorus & Orchestra of the
Metropolitan Opera
(2 December 1939)
Schorr, Kullman, Jessner, Branzell, Laufkoetter / Leinsdorf
Friedrich Schorr's famed performance as Hans Sachs and Charles Kullman's justly famed Walther (which he first sang under Toscanini's direction at Salzburg in 1936) is recorded in splendid sound, perhaps the best of all Met preservations in the 1930s and ­­1940s. Irene Jessner emerges as a surprisingly memorable Eva, with singing occasionally reminiscent of Tiana Lemnitz and, in Act III, Rethberg. List, Karin Branzell, Herbert Janssen and Karl Laufkoetter complete the cast. The young Leinsdorf directs an animated, propulsive and ultimately triumphant performance in which the Met chorus covers itself with glory. The overall effect is immensely inspiring, so much so that the broadcast (with complete commentary and curtain calls) seems representative of the entire era. A 52-page booklet, lavish with photos, offers texts about the work, the performances, and the composer, biographies and extensive recording notes.
Top
---
Click on the images to enlarge
FLORENCE QUARTARARO
Unknown Recordings - Arias - Duets
The Complete Collection
"The greatest singer of whom you've never heard."
Henry fogel, WMFT radio
Here are all the privately recorded songs, arias and duets from Madame Quartararo's collection, one third of which was published by us on Guild label in 2003 to widespread acclaim. Now, following repeated requests we publish the remainder of the recordings we hold (2 CDs) together with a free third CD re-offering the recordings we previously released on CD. The album was the subject of a radio program in August 2013 on WFMT in Chicago. The host of that program also wrote the notes for our album.
Top
---
NEVER BEFORE AVAILABLE

PARSIFAL

Act I complete

Teatro Colon 1946




Torsten Ralf, Emanuel List, Herbert Janssen, Rose Bampton, Jorge Danton




Conducted by Erich Klieber




Also: Parsifal

Act I: Prelude and Transformation Scene to the end of the act

Act III: Good Friday Scene to the end of the act




Covent Garden 1937 / Vienna 1949




Torsten Ralf, Ludwig Weber, Herbert Janssen, Robert Easton




Conducted by Fritz Reiner / Rudolf Moralt




Also Parsifal: Rare 78 rpm discs



The album opens with a disc premiere of a 1946 Teatro Colón performance of Act I (complete) with Torsten Ralf, Emanuel List, Herbert Janssen and Rose Bampton conducted by Erich Kleiber in somewhat cramped sonics. Thereafter, in great sound, ensues a Parsifal from Covent Garden 1937. This includes the Prelude, the Transformation Scene through to the end of Act I; Act III: The Good Friday Scene to the end of Act III. Gurnemanz is marvelously sung by Ludwig Weber, Torsten Ralf is Parsifal and Herbert Janssen's much-celebrated performance as Amfortas communicates the reasons why he was so revered in this role. The bonus recordings offer rare 78s from Parsifal. The booklet offers extensive texts about the work, the composer and the singers together with rare pictorials and extensive recording notes. We believe this to be an edition that will be much cherished by connoisseurs of vocal art.
Top
---
Click on the images to enlarge
| | |
| --- | --- |
| | |
Verdi
RIGOLETTO
Piaro Campolonghi - Maria Callas - Giuseppe Di Stefano
Opera Nacional, Mexico City
Humberto Mugnai, 1952
THE CALLAS LEGACY
Our 2012 restoration of this important performance offers vivid sound with considerable clarity and immediacy, revealing a shining loveliness to Callas' voice previously absent due to a loss of overtones and the wrong pitch of numerous available albums. Includes two extensive articles about Callas. The broadcast transcriptions, with commentary in Spanish, offer natural tone, brightness and punch in the sonics. Please Note: A few performance failures marred this broadcast. These mishaps have been corrected in this restoration. Full details are to be found in the album booklet.
From Henry Fogel's review, Fanfare Nov./Dec. 2012:
"Callas's remarkable Gilda is this Mexico City performance from the beginning of her career, which imparts a special value to this release. . . especially when they learn that the sound is significantly superior to all prior versions . . . Even Myto's, which was the best CD version, is easily surpassed by Richard Caniell's efforts for his Immortal Performances label."
"The Inn scene with Sparafucile, Maddalena, and Gilda was a wreck in the original. . . [something] one cannot live with on repeated hearing in recorded form. . . [Caniell] replaced it with the same music from the EMI . . . and explains openly what he did in his superb notes . . . he has pulled it off brilliantly, getting the EMI sound to match the Mexico recording extremely well. He includes the Inn Scene material from the original as a bonus track, if anyone wishes to hear the mess."
"Caniell's notes about this performance, and about his approach to restoration, are a model of what kind of material should accompany historic reissues but rarely does."
Top
---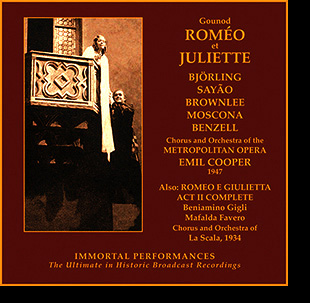 Gounod
ROMEO ET JULIETTE
Chorus and Orchestra of the
Metropolitan Opera (1 February 1947)
Jussi Bjoerling, Bidu Sayao, John Brownlee, Nicola Moscona, Mimi Benzell
Conducted by Emil Cooper
Bonus: Romeo e Giulietta
Act II complete
La Scala 1934
Beniamino Gigli and Mafalda Favero
This justly celebrated performance, which presents Bjoerling and Sayão at the height of their vocal and dramatic capacities, has been well circulated through numerous releases including the Met's own edition, offered for $125, but none of them come near the sonics of our edition. The album includes the broadcast commentary and offers a booklet lavish with photos and texts devoted to the singers, performance, composer and work as well as biographies and recording notes. As a bonus a premiere release of the complete performance of Act II of Romeo which was broadcast from La Scala in 1934 with Gigli and Mafalda Favero in sound superior to what has been previous made available (in excerpted form) by EMI and others. Hearing Bjoerling and Gigli in the same music presents a fascinating contrast in great singing and style.
Top
---
Click on the images to enlarge
| | |
| --- | --- |
| | |
Richard Strauss
DER ROSENKAVALIER
Lotte Lehmann
Risë Stevens - Marita Farell - Emanuel List - Friedrich Schorr - others
Chorus and Orchestra of the Metropolitan Opera
Artur Bodanzky, 1939
Though the source remains an A.M. radio recording, our 2012 restoration offers better sound than previously available, together with with some commentary and 2 interviews with Lotte Lehmann, as well as 34 rare photographs of the stage performance, articles about the singers and biographies. The bonus offers historic recordings from Der Rosenkavalier (1928-29).
From Henry Fogel's review, Fanfare May/June 2013:
"Richard Caniell's restoration of this 1939 broadcast surpasses all previous issues in quality, even including the Met's own lavishly produced (and lavishly priced) LP set. The sound is fuller, the voices truer and more natural, the sonic grit minimized to a degree I would not have thought possible . . . The sound is now listenable to anyone with an ear attuned to "historic" recordings, in a way that it never has been.
"So why can you not be without this? Primarily, but not solely, Lotte Lehmann in one of her greatest roles, caught in terrific voice and in a real performance. . . . Her Marschallin is one of the truly great operatic characterizations, worthy of mention with Chaliapin's Boris and Caruso's Canio, and to have it in this form is to have a treasure. In addition we get the young Risë Stevens's deftly characterized and beautifully sung Octavian, a relatively unknown Sophie in Marita Farell, but one who sings with the pure silver tone this music wants.
"This is a hugely important release to anyone who cares about this opera; even if you have the performance in an earlier incarnation, replacement is urgently recommended."
Top
---
Click on the images to enlarge
| | |
| --- | --- |
| | |
SET SVANHOLM
Unknown Lieder Recitals
1949 & 1952
Schubert - Brahms - R. Strauss - Rangström - Grieg- Sibelius -Wagner
Scenes from Tristan und Isolde (1950) and Die Meistersinger (1949, 1956)
Svanholm, famed in Wagnerian roles, is presented here in two little known lieder recitals, U.S. (1949) and Vienna (1952), providing new insights into his vocal art. A new release in our Famous Voices of the Past series.
From Raymond Beegle's review, Fanfare May/June 2012:
"Although Set Svanholm is several years younger than Karl Erb, they represent the same Zeitgeist, comprised in part, of simplicity and directness, as well as a deep connection with nature and the human heart. One finds a kindred clarity, brilliance, and beauty of sound, a helden quality . . . . "
"Svet Svanholm's two recitals presented on this disc are very compelling, and at times magical. There are moments approaching perfection, as in the Library of Congress performance of Dein blaues Aug although one encounters throughout both performances chronic technical difficulties . . . The purity and sincerity of Svanholm's delivery carries the day . . . No one today sings the songs of Schubert and Brahms with the depth and guilelessness he possessed, though many are more polished. "
Top
---
Click on the images to enlarge
| | |
| --- | --- |
| | |
Verdi
SIMON BOCCANEGRA
Tibbett - Rethberg - Martinelli - Pinza – Warren
Chorus and Orchestra of the Metropolitan Opera
Ettore Panizza, 1939
In Honor of the Verdi Bicentennial
This renowned performance has been repeatedly released on CD by many labels, all being clones of the Met set. This means highly compressed, lifeless sound with a metallic resonance. Our 2013 restoration offers the best sonics ever available with considerable vocal presence, natural tone and dimensionalization of the ensembles so as to recreate in dynamic values, one of the most exciting and truly great performances of the late 1930s.
From Henry Fogel's review, Fanfare Nov/Dec 2013:
"Until now, this 1939 Met broadcast could only be recommended to collectors who had a wide tolerance for "historic" sound. What Richard Caniell of Immortal Performances has done here is close to miraculous. . . . The dynamic range has been extended, removing the effects of electronic compression. (Surface) noise has been removed without removing color from the voices; and the whole jumps out of the speakers as the incredible performance that it is.
"Tibbett is gigantic as Boccanegra. . . this is one of the great operatic portrayals ever, period . . . the same can be said about Pinza. Beauty of tone, nobility of expression, strength and eloquence, it is all there. Rethberg perhaps gains the most from Caniell's remastering. . . her voice glows with a warmth that previous editions of this performance managed to minimize. Martinelli's feeling for the style is complete, he has power, and he also has the ability to moderate his voice and sing softly . . . There are moments that are truly thrilling, alongside moments where one wishes for more tonal beauty . . . . But the greatness of the artist is always present when Martinelli sings.
"Immortal Performances's usual stunning production standards are present. The booklet contains intelligent, thoughtful notes on the performance and the artists, wonderful rare old photos, and insightful comments on the opera itself. Real Verdi lovers . . . would be quite foolish to pass this one up. It provides operatic thrills that frankly none of the studio recordings can duplicate, not even the best of them."
Top
---
Click on the images to enlarge
ARTURO TOSCANINI
BRAHMS CYCLE 1935
Philharmonic-Symphony Society of New York
Concerts of 24 February, 17 March, 31 March, 7 April
Derived from private recordings that have preserved four of the six concerts that were broadcast, our restoration offers Heifetz in the Violin Concerto and Horowitz in the First Piano Concerto, among many other works. On-pitch transfers with best sound. Another valuable addition to our Toscanini Legacy series.
Top
---
Click on the images to enlarge
LUCERNE CONCERTS
La Scala Orchestra
BEETHOVEN - WAGNER - R. STRAUSS TOSCANINI
5, 7 July 1946
The 7th of July Concert, published complete for the first time, is in excellent sound. This album also includes a performance of Strauss' Death and Transfiguration, professionally recorded at the Festival. (It is erroneously stated in our booklet material that this Death and Transfiguration is a world premiere – we have since learned this is not the case.) The bonus offers two performances: Smetana's The Moldau and Strauss' Don Juan from the 1949 Venice Music Festival in less good sonics. Booklet text concerning the performances, recording notes and photos, combine to present a vivid aural portrait of Toscanini's first European performances after the war.
Top
---
RARE RECORDINGS FROM THE NEW YORK PHILHARMONIC SERIES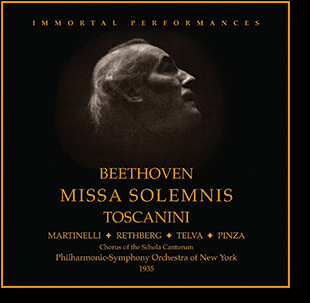 ARTURO TOSCANINI
Philharmonic-Symphony Orchestra
of New York
28 April 1935
MISSA SOLEMNIS
Martinelli, Rethberg, Telva, Pinza
Chorus of the Schola Cantorum
Bonus:
1935 Met Simon Boccanegra
Act I, Scene 1 complete
Rethberg, Martinelli, Pinza, Tibbett
This important performance, previously published in exceedingly poor, off-pitch sound, is here offered in a sonically restored edition. The booklet text is by John Steane, the article about the composer and the Missa is by Richard Caniell, as are the extensive Recording Notes. The bonus offers the complete Act I, Scene 1 of Simon Boccanegra, Met 1935, a conjunction suggested by Mr. Steane as an interesting contrast in hearing two performances by Martinelli, Rethberg and Pinza in the same year. The album also offers two short interviews with Rethberg and Martinelli about their experience with Toscanini, together with photos of the singers in both broadcasts making this an album to treasure.
IMPORTANT NOTICE: COMPLETELY REMASTERED DISCS
The 1935 Missa Solemnis conducted by Toscanini means the world to our Sound Engineer, Richard Caniell, and he has spent untellable hours, weeks, from month to month over the past three years on it. Now, after we released it and it's been reviewed and purchased by many music lovers, he nonetheless kept returning to it, hoping to yet improve its sonics. Recently he achieved a significant break-through in sound improvement – in clarity, in tone, in the divisions between the choral voices and the orchestra, and in more natural sound (which was greatly injured by the private recording and AM transmission). We now offer this re-mastered version and we will provide the remastered discs free of charge with any order you make of other albums, or, strictly for the cost of postage to mail the discs to you. (Contact us.)

(Click here to read the full details.)
Top
---
Click on the images to enlarge
ARTURO TOSCANINI
NBC Symphony Orchestra
Two Complete Concerts
20 April 1940 Concert
Elgar: Introduction and Allegro for Strings, Op. 47
Mozart: Symphony No. 41 "Jupiter" in C Major, K. 551
Dvorak: Scherzo Capriccioso, Op. 66
Mussorgsky: Pictures at an Exhibition
9 April 1944 Concert
Wagner: Parsifal Prelude and Good Friday Spell
Mendelssohn: Concerto for Violin and Orchestra in E Minor, Op. 64
Jascha Heifetz, violin
Bonus: Rehearsals for the 20 April 1940 Concert
Very good sound, includes a free third CD of rehearsal portions of the four works heard on 20 April 1940. The 9 April 1944 Wagner has improved sound and the Mendelssohn Violin concerto (Heifetz) is on pitch.
Top
---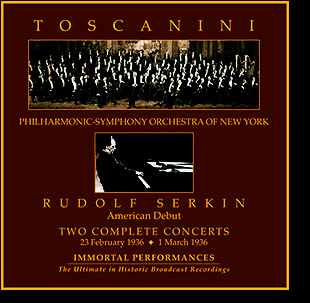 ARTURO TOSCANINI
PHILHARMONIC-SYMPHONY OF
NEW YORK
COMPLETE CONCERT: 1 March 1936
Weber - Verdi - Debussy
Goldmark - Wagner
with Dusolina Giannini, soprano
Milton Cross, commentator
and
COMPLETE CONCERT: 23 February 1936
Beethoven: First Symphony
Beethoven: Piano Concerto No. 4
Mozart: Piano Concerto No. 27
Rudolf Serkin, pf (American Debut)
Bach: Toccata and Fugue - Orchestrated by Sir Henry Wood
(with full broadcast commentary)
The legacy of private recordings made of the New York Philharmonic broadcasts of the 1935 and 1936 seasons when they were directed by Toscanini have had little circulation and those which have been reproduced have been in appallingly bad sound (with gaps every 15 minutes while the private recordist changed discs). The reasons for this dismal state of affair is set forth in this album but there is a bright side: our discovery of the first generation copy of the original lacquers. These provide superior sonics and, while the lacquers are sporadically noisy, a rich experience of the two concerts is now possible. There are no gaps and broadcast commentary is included for both performances. The booklet offers extensive texts about the performances and includes detailed recording notes. This is the first in a planned series of Toscanini New York Philharmonic restorations we will be releasing, albums that we believe will justly be considered the ultimate editions.
Top
---
Click on the images to enlarge
| | |
| --- | --- |
| | |
RED CROSS BENEFIT CONCERT
New York Philharmonic and NBC Symphony Orchestras
Leonard Warren, Zinka Milanov, Jan Peerce, Nan Merriman, Nicola Moscona
600 Voice Chorus
WAGNER - VERDI - SOUSA TOSCANINI
Madison Square Garden - 25 May 1944
Of all the many wartime benefit concerts conducted by Toscanini, this one, performed in the old Madison Square Garden before an audience of over 19,000 music lovers, was the most stupendous. For this occasion the New York Philharmonic and the NBC Symphony were fused into one orchestra of over 200 musicians. With a chorus of 600 voices, and with famed soloists from the Metropolitan Opera, this is a concert of historic importance. Superb sound; extensive program notes. The bonus presents the VE Day broadcast in which Toscanini conducted the Beethoven Fifth Symphony
This immense concert offers, among other memorable performances, what may be the most electrifying, deeply moving performances of the Liebestod from Tristan und Isolde ever conducted by the Maestro. For those who revere these artists, musicians and conductor, this is the ultimate, never to be forgotten, memento of an unparalleled musical event.
Top
---
FROM TOSCANINI'S PERSONAL COLLECTION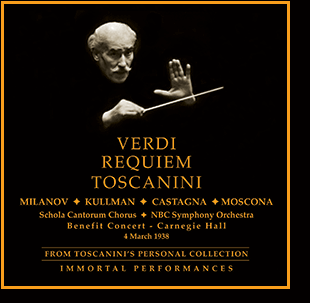 ARTURO TOSCANINI
NBC SYMPHONY ORCHESTRA
4 March 1938
VERDI REQUIEM
Milanov, Kullman, Castagna, Moscona, Westminster Choir
Benefit Concert - Carnegie Hall
Bonus:
All-Verdi NBC Concert, 31 January 1943
Peerce, Della Chiesa, Moscona / chorus
Two Complete Concerts
One of Toscanini's most memorable achievements with this great work, never broadcast in the U.S., in good sound. Perhaps Milanov's greatest singing of this music. This virtually unknown performance with the NBC Symphony, from Toscanini's personal collection, was passed down from Toscanini to Richard Gardner, his sound engineer, who in turn gave it to our archivist and sound engineer, Richard Caniell. A stupendous performance! Bonus: All Verdi NBC Concert, 31 January 1943 with Peerce, Della Chiesa, Moscona and chorus. The concert includes music from Forza del Destino, Nabucco, Traviata, Otello and the first U.S. performances of Hymn of the Nations in an electrifying performance. Much of this program has not been previously released.
Top
---
Click on the images to enlarge
Verdi
La Traviata
Puccini
Madama Butterfly
Albanese Centenary - Double Album
4 discs for the price of 3
La Traviata
Licia Albanese - Charles Kullman - Lawrence Tibbett
Chorus and Orchestra of Metropolitan Opera
Cesare Sodero, 5 December, 1942
BONUS:
Albanese singing in excerpts from La Wally, Andrea Chénier, and Otello
Madama Butterfly
Licia Albanese - Armand Tokatyan - John Brownlee - Lucielle Browning
Chorus and Orchestra of Metropolitan Opera
Gennaro Papi, 5 January 1941
BONUS:
Albanese singing in excerpts from Otello, Pagliacci, Faust,, and Carmen
Albanese's first Met performances of these roles in good sound. Certain portions of the 1942 broadcast (Traviata) augmented by passages from 1944. Albanese's youthful voice is a complete delight.
Top
---
Click on the images to enlarge
Wagner
Tristan und Isolde
ACT III COMPLETE
Lauritz Melchior, Göta Ljungberg, Herbert Janssen
Ivar Andresen, Genia Guszalewicz, Peter Klein
Celebrating Tristan performances
in which these singers appeared together.
A seamless fusion of broadcast and 78 rpm recordings.
This is a memento of occasions in which Melchior and Ljungberg sang together in the 1930s at the Met and Covent Garden, in performances which included Janssen and Andresen. A powerful and utterly haunting performance in excellent sound for this era. The booklet offers rare photographs of the singers in their roles, biographies, a track-related synopsis and an extensive article about the memorable qualities which these voices brought to Wagner's tragedy. The bonus recording is an excerpt from Wagner's Die Meistersinger, Act II, Gut'n Abend, Meister, sung by Ljungberg and Friedrich Schorr (conducted by Lawrence Collingwood, London Philharmonic, 1931)
Top
---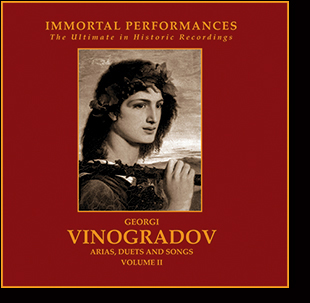 THE RUSSIAN LEGACY
VINOGRADOV
Premiere
Arias, Duets and Songs
Volume II - New Discoveries
Volume II - New Discoveries We first issued a 4-disc album devoted to the singing of Georgi Vinogradov (Guild Historical 2250-3) which drew critical raves and which won Best Vocal Album 2004 from a jury of eleven famed music critics convened by Classical Record Collector magazine. Since then many inquiries have been received as to whether any other recordings existed of this extraordinary tenor. Our answer to this is this second volume which offers all the discs we had, which were omitted from the first album, or those since located. Here is a lyric tenor voice that possesses those singular attributes that make his singing unforgettable and worthy of standing in the ranks of the truly great, such as Schipa, Gigli and a very few others.
Top
---