LIBRETTOS:
Doktor Faust
Music and words by Ferruccio Busoni

Posthumous World Premiere, Dresden, 21 May 1925. Soloists were Erich Ponto, Theo Strack, and Meta Seinemeyer. Conducted by Fritz Busch. Click here to download the libretto (English translation by Edward J. Dent).



Arlecchino
Music and words by Ferruccio Busoni.

First performance 11 May 1917 in Zurich. Click here to download the libretto (English translation by Nicolai Rabaneck).




Top

---
Click on the images to enlarge
DON GIOVANNI
TWO PERFORMANCES
With Ezio Pinza
DON GIOVANNI
Baccaloni - Steber - Kirk - Kullman - Sayão - others
Metropolitan Opera
George Szell, 9 December 1944
AND
DON GIOVANNI
Baccaloni -Stoska - Resnik - Kullman - Conner - others
Metropolitan Opera
Max Rudolf, 6 December 1947
Pinza, the greatest Don Giovanni in this decade, is heard in Szell's 1944 high voltage performance and in 1947, his final broadcast in the role. With Baccaloni as Leporello, these two made a dynamic duo, completely convincing in their relationship and sparked with high humour. Both performances in good sound; interesting notes, extensive photos.
---
Click on the images to enlarge
| | | |
| --- | --- | --- |
| | | |
DON PASQUALE / IL TABARRO
125th Anniversary of the Birth of Fritz Busch
MET DOUBLE BILL - TWO PERFORMANCES
DON PASQUALE
Baccaloni - Sayão - Martini - Brownlee - De Paolis
Metropolitan Opera
Fritz Busch, conductor, 5 January 1946
BONUS
Don Pasquale Scenes with Tito Schipa; Erna Berger and Karl Schmitt-Walter;
Giulio Fregosi and Gaetano Azzolini.
AND
Il TABARRO
Tibbett - Albanese - Jagel - Harshaw
Metropolitan Opera
Cesare Sodero, 5 January 1946
Donizetti's uproarious and charming Don Pasquale, preceded by Puccini's forceful, tragic Il Tabarro; offers superb performances. Best sound over all previous editions. (3 CDs)
Henry Fogel writes in the booklet notes:
"Let's start with Il Tabarro. During her long Met career (1940-1966) Licia Albanese was particularly identified with the music of Puccini, and there are recorded examples of her in many Puccini roles, either studio or live recordings. There is, however, a single performance of her Giorgetta in Il Tabarro preserved, and it is this one. How fortunate we are to have it, particularly paired with Lawrence Tibbett's Michele. The fervor and the innate feel for the Puccini idiom that both artists convey in their scenes together is not duplicated in any other performance of which I am aware. "
"This [Don Pasquale] is a treasurable opportunity to experience a Donizetti opera conducted by the great Fritz Busch, and from the opening of the Overture we understand that this will be a unique experience. The degree of attention to dynamic shading and to orchestral balance and texture is remarkable, and Richard Caniell's has made special efforts in his restoration to preserve that dynamic shading and the performance's dynamic range. There is spring in the rhythms, there is flexibility in the shaping of melodic lines, a sparkle in the string playing, an effective and intelligent application of rubato, and an attention to phrasing that we almost never hear in this music."
Top
---
Click on the images to enlarge
| | | | |
| --- | --- | --- | --- |
| | | | |
Richard Strauss
ELEKTRA
Concert Version
Philharmonic Symphony Society of New York
Rose Pauly


Szánthó, Boerner, Jagel, Huehn

21 March 1937

Artur Rodzinski, conductor




AND


ALL-STRAUSS CONCERT

Don Juan - Two Lieder - Salome Final Scene

Rose Pauly

New York Philharmonic




27 February 1938

John Barbirolli, conducting




Bonus:

Rose Pauly: Lieder and operatic arias



Stunning performance by Rose Pauly in best sound ever. CD-2 offers All Strauss 1938 Concert including Don Juan, two lieder and Salome Finale (with Pauly) conducted by Barbirolli. Bonus: rare 78s of Pauly.
From Henry Fogel's review published in FANFARE magazine's Nov/Dec 2014 issue:
" ". . . the performance of Elektra somewhat abridged by Rodzinski is the real reason for this set. Rose Pauly . . . was a hugely successful dramatic soprano in Germany in the 1930s, but had to leave as the Nazis rose to power . . . She made very few recordings, and so we don't think of her in the same way we think of other great dramatic sopranos of her day and the next generation—Flagstad, Leider, Lawrence, Varnay, Borkh and then Nilsson. This Elektra and the astonishing Salome final scene from a New York Philharmonic concert with Barbirolli in 1938 make clear that she is of the same caliber as any of them. . . . (Her) vocal brilliance and steely power, combined with a sufficient warmth of tone to provide vocal beauty as well as sheer volume, are part of the picture. But of equal importance is her understanding and communication of the text. . . Her rage and hatred are reflected in her tone, as is the ecstasy when she recognizes her brother. For those to whom Elektra is an important work, it would be essential to get to know this recording.
"The excerpts from the 1938 all Strauss New York Philharmonic concert are valuable too, giving us more documentation of the art of John Barbirolli. . . the accompaniments to Pauly in the two songs (Verführung and Gesang der Apollopriesterin) are sensitive, and the singing is remarkably intimate . . . Then comes the other highlight of this set: the final scene from Salome. Pauly manages to convey the sense, through vocal color and phrasing, that this girl is indeed a teenager. At the same time, she rides the orchestra with power. This is one of the great recording performances of this scene.
"The excerpts from Die Ägyptische Helena are immensely valuable. . . The conducting strikingly beautiful—not surprising since it is Fritz Busch. These four scenes, as well as the Ford Hour broadcast from Detroit of Allerseelen with Reiner, are extremely gratifying extras in this set, as is the Fidelio aria.
"Immortal Performances's usual high production standards apply. The transfers are all infinitely superior to what has been around before of this material. The essays by Caniell himself and by London Green are illuminating, stimulating, and models of what we would hope to find in historical re-issues but almost never do. And the artwork and photographs are up to the same level. The texts and translations of the two songs are given as well.
Top
---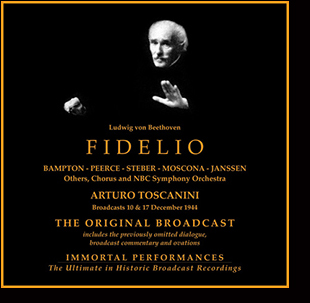 ARTURO TOSCANINI
FIDELIO
Chorus and Orchestra of the NBC Symphony (Broadcasts 10 and 17 December 1944)
Rose Bampton, Jan Peerce, Eleanor Steber, Nicola Moscona, Herbert Janssen, Sidor Belarsky, Joseph Laderoute
Full Spoken Dialogue
Original broadcast with commentary
Bonus: Leonore No. 2, 25 September 1945
Rose Bampton: Radio Interview
The Toscanini broadcast of Fidelio, though celebrated on many grounds was also deplored because broadcast scheduling required that the dialogue be omitted. Here at last is the ultimate edition with the dialogue restored, together with the original Abscheulicher (we replaced the bad note sung by Bampton). RCA Victor, in their release, replaced the entire aria with a later recording (sung without an audience) in its LP/CD release. Our release includes full broadcast commentary and ovations. The booklet offers texts about the singers and performance, extensive recording notes and rare photos. The bonus is a dynamic performance of the Leonore No. 2 taken from a 1944 concert that was not broadcast. The concluding bonus is an interview with Rose Bampton in which she talks about the occasion Toscanini selected her to sing Leonore.
Top
---
Click on the images to enlarge
Wagner
DER FLIEGENDE HOLLÄNDER
Chorus and Orchestra of the Royal Opera, Covent Garden
Herbert Janssen, Kirsten Flagstad, Ludwig Weber, others


6 and 11 June 1937

Fritz Reiner, conductor




Bonus




Kirsten Flagstad - Three Lieder - 1949 and 1950



One of the great performances of Wagner's first major music-drama has only been available in highly fragmented form. Our restoration is virtually complete, with only the Senta-Erik scene in Act II missing. Reconstruction of this performance, keeping Weber as Daland, required the introduction of 16 minutes in Act I from a 1936 performance and one and a half minutes in Act III. All else is conducted by Reiner. Now, for the first time, the memorable singing of these renowned vocal artists can be heard in sustained musical and dramatic continuity and in good sound as well.
Top
---
A TRULY REPRESENTATIVE PERFORMANCE FROM THE LATTER DAYS OF THE GOLDEN AGE AT THE MET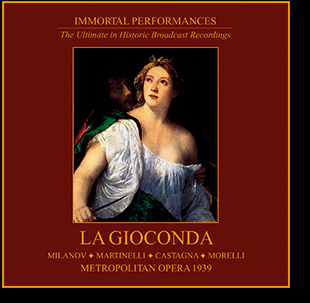 LA GIOCONDA
Chorus & Orchestra of the
Metropolitan Opera
30 December 1939
Milanov, Martinelli, Castagna, Morelli, Moscona, Kaskas
Ettore Panizza, conductor
Bonus:
Never Previously Published:
Interview with Zinka Milanov, 1959
Also: Martinelli speaks of Martinelli
and
Ponchielli's I Lituani: Finale to Act III
The 1939 Met broadcast offered some of the most memorable singing by Milanov ever recorded. This, with the plenitude of Martinelli's Enzo recreates the opera with stirring dramatic eloquence. Offers the best sound, with commentary by Milton Cross. 3 CD set with a 40 page booklet, an article about the performance (by John Steane) and the composer (by Richard Caniell), as well as a full track-related synopsis, biographies and rare photographs. A great memento of a much revered era.
Top
---
Click on the images to enlarge
| | |
| --- | --- |
| | |
Wagner
GOETTERDAEMMERUNG
Act II complete
Lauritz Melchior - Frida Leider - Herbert Janssen - Ludwig Weber
Chorus and Orchestra of the Royal Opera, Covent Garden
Wilhelm Furtwangler, 1938
The complete Act II with the most illustrious Wagnerian singers of the age conducted by Furtwängler in an electrifying realization. Very good sound, extensive booklet notes and photos. Includes as Bonus: Frida Leider sings two operatic arias, brief interview and two songs of Schumann.
Top
---
FROM THE "OPERA HOUSE OF OUR DREAMS" SERIES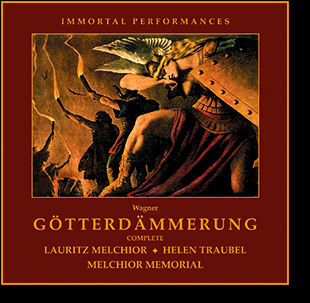 GÖTTERDÄMMERUNG
Chorus & Orchestra of the
Metropolitan Opera
MELCHIOR MEMORIAL
LAURITZ MELCHIOR - HELEN TRAUBEL
Janssen, Resnik, Harshaw
Ernster and Pechner
Various Conductors
Commentary by Milton Cross
Bonus:
Interview with Lauritz Melchior in his 80s
Click here to see back of album
A much laboured upon restoration and re-creation of Melchior's final performance as Siegfried which occurred on 20 December 1948 at the Metropolitan Opera. Superb sound overall. This 4 CD set comes with a 56 page booklet, with articles about the performance and the composer, as well as a full track-related synopsis, biographies and rare photographs. An unforgettable memento of the final days of the Wagner Golden Age at the Met.
Top
---
Click on the images to enlarge
Gretchaninoff
Missa Oecumenica
World Premiere
Maria Kurenko - Roland Hayes - Dorothy Cornish - Robert Collins
Boston Symphony Orchestra
Serge Koussevitzky, 26 February 1944
Never previously available in any medium. Good sound.
ALSO:
Gretchaninoff Songs
Maria Kurenko - Nina Koshetz
With the composer at the piano
A special album for Russian music aficionados, featuring the immensely popular 1940s soprano Maria Kurenko and tenor Roland Hayes, has just recently been improved with a generous contribution from one of our customers. The first movement (Kyrie) of the Missa Oecumenica has long been missing from this broadcast, until a patron offered us an old 16 inch transcription disc to complete the Mass. We will provide the remastered disc now to previous purchasers for $5.00. (Click here to read more details.)
Top
---
Click on the images to enlarge
Mozart's
IDOMENEO
complete
Glyndebourne Festival 1951
Sena Jurinac - Richard Lewis - Birgit Nilsson - Leopold Simoneau
FRITZ BUSCH In Association with Bruder Busch Archiv

Fritz Busch was a masterful conductor and his performances at Glyndebourne during 1950 and 1951 are each unforgettable events. This Idomeneo, which followed his incomparable Cosi fan Tutte, both starred Sena Jurinac. The Idomeneo performance cast her with Leopold Simoneau and Richard Lewis, while Birgit Nilsson is heard in her first appearance outside Sweden. This album offers our restoration of Idomeneo, made for the Bruder Busch Archiv in Germany, under whose authorization it is now released. With extensive program notes and rare photos, we also offer a bonus (disc premiere) of the rehearsal of a Mozart Concert Aria sung by Jurinac with Busch conducting. Heard in good sound, this is a Mozart operatic treat music lovers can't afford to miss.
Top
---
Click on the images to enlarge
| | |
| --- | --- |
| | |
JENNIE TOUREL
Unknown and Little Known Performances
1937-1961
— PREMIERE RELEASE —
Thomas - Mahler - Bizet - Bellini - Rossini
Standard Hour Concerts
Saint-Saëns - Tchaikovksy - Stradella - Rossini - Berlioz
Chausson : Poème de L'Amour et de la Mer, Op. 19
Haydn: Arianna a Naxos
Berlioz: La Mort de Cléopâtre
As Peter Davis wrote of Jennie Tourel in his book American Opera Singers (when considering her debut as Mignon): ". . . her vibrant voice, with its familiar, intriguing tang and pungency already securely in place, takes all the soprano options with stunning results. And in every measure, there is the distinctive, musical and interpretive intelligence that discerning audiences would soon learn to treasure."
Davis, then a young man, attending a recital Tourel gave in a Boston Concert Hall during the fifties, told his readers that Tourel sang "a program of art songs and arias employing an extraordinary range of vocal colors and expressive dynamics, illuminating every emotion from Gretchen's heartbreak to Périchole's tipsy joie de vivre."
From Henry Fogel's article written for our booklet:
"Bizet, Rossini, Mahler, Chausson, Bellini, Haydn, Berlioz, Saint-Saëns, Offenbach, Stradella. The list of singers who would be comfortable in such a broad range of musical and dramatic styles is a very small list indeed. By "comfortable" I don't mean just singing the notes. What I am talking about is conveying the appropriate musical style – everything from phrase-shaping to color and weight of voice and dynamic range – for each of those composers. One singer who easily passes that test is Jennie Tourel.
"The opportunity in this set to hear Tourel in such a wide range of material gives the listener a chance to re-assess her, and, frankly, brings a new appreciation of her artistry and her natural vocal strengths."
Top
---
Click on the images to enlarge
JON VICKERS MEMORIAL
1926-2015
TWO PERFORMANCES
WORLD PREMIERE RELEASE
AIDA
Bumbry, Vickers, Carlyle, Merrill
Chorus and Orchestra of the Opéra de Montréal
Georges Prêtre, 11 October 1965
AND
CARMEN
Zeani, Vickers, Chookasian, Braun, others
Chorus and Orchestra of the Teatro Colón
Zubin Mehta, 5 July 1968
Vickers was world famous for his Radames and Don Jose. Here are two never previously published performances to honor his extraordinary vocal artistry. (4 CDs for the price of 3)
John Steane, in his book Singers of the Century, wrote:
"He had, among the tenors of our time, an incomparable intensity. A sense, not exactly of strain, but of high notes that were not easily won, was part of it — not an invariable feature of his singing, but part of the grieving, troubled soul of his characters. Radamès in the agony of choice and betrayal; Don José in his surrender and confession — these were passages into which Vickers put all the intensity of his being."
Top
---
INTRODUCING OUR FAMOUS VOICES FROM THE PAST SERIES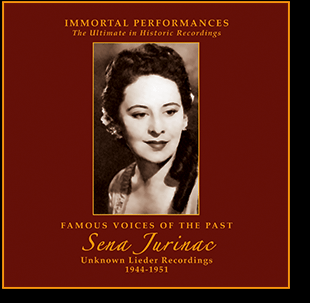 SENA JURINAC
UNKNOWN LIEDER RECORDINGS
1944-1951
Greig, Respighi, Wagner, Schubert, Mendelssohn, R. Strauss, Marx, Reger
Also
R. Strauss Four Last Songs
Radio Copenhagen / Fritz Busch
1951 (Never before published)
OPERATIC ARIAS AND DUETS
1949-1952
Gasparone - Fledermaus - Nozze - Carmen - Bohème
Madame Butterfly - Bartered Bride - Otello - Manon
One of the great voices of the latter half of the past century. Jurinac is heard in previously unknown recordings of lieder, recorded between 1945 and 1951. The second CD is composed of arias and duets from famous operas. Includes an article about Sena Jurinac by Tully Potter, "The Early Prime of Sena Jurinac: A Personal View". First in a new series.
CLICK HERE for German texts and translations of most of the Unknown Leider (Sena Jurinac) on CD 1.
Top
---
Click on the images to enlarge
| | | |
| --- | --- | --- |
| | | |
Wagner
LOHENGRIN
Melchior - Lehmann - Schorr - Lawrence - List
Chorus and Orchestra of the Metropolitan Opera 1935
Artur Bodanzky, 1935
In Honor of the Wagner Bicentennial
This historic performance is heard in our 2013 restoration in superior sound to all previously released CD albums by various labels, though it still is afflicted with the compressed 1935 transmission characteristics. Our restoration is taken from the original transcription, with broadcast commentary and curtain calls, and offers a booklet containing extensive articles about the performance, singers, and composer, together with rare photos. Truly, the ultimate edition.
From Henry Fogel's review, Fanfare Nov/Dec 2013:
"This is another stunning restoration of historic material by Richard Caniell and Immortal Performances . . . He has worked on it over many years.
"Lehmann's voice is positively thrilling throughout . . . a performance of nobility and humanity . . . conveyed here in a wholly convincing manner, and with unfailingly glorious tone production and phrasing. Marjorie Lawrence is a splendid Ortrud. . . . Schorr's voice shows a few signs of wear . . . but the flaws are minor when compared with the depth of his characterization and deep musicality of his singing, and the variety of inflection and color he brings to Telramund. . . . Assessing Melchior's performance, this is the very best of those that have survived.
"A direct comparison of this (album) with the Myto and the Melodram releases of the same performance demonstrate the superiority of the Immortal Performances release. . . The set also includes Milton Cross's commentary and curtain calls.
"The filler includes the end of the first act of Die Walküre, from their "Dream Ring" (with Melchior and Lehmann) . . . that is as good as it gets. . . and then five Schumann duets . . . English texts are provided . . . with singing that is as beautiful as you would expect it to be from Melchior and Lehmann."
Top
---
Click on the images to enlarge
Wagner
Lohengrin
Lauritz Melchior, Elisabeth Rethberg
Kerstin Thorborg - Julius Huehn - Emanuel List - Leonard Warren
Chorus and Orchestra of the Metropolitan Opera
Erich Leinsdorf, 1940
From new sources with commentary.
The Original Broadcast
Perhaps the best sounding example of this music drama as heard during the latter days of the Golden Age of Wagner at the Met, this broadcast offers the finest Lohengrin of the century, Lauritz Melchior, heard with Elisabeth Rethberg, who give an electrifying performance as Elsa. The searing intensity of her singing in the Bridal Chamber scene won't soon be forgotten.
We finally located a first transfer of the original broadcast transcriptions, which includes the commentary by Milton Cross and curtain calls. The superiority we heard over our previous Guild release (2004), included noiseless full-toned sonics delivering considerable clarity and impact. This led us to release this broadcast anew. We can say with certainty, this is the ultimate edition.
Top
---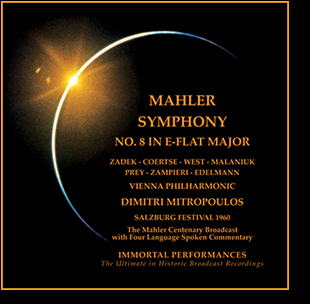 MAHLER SYMPHONY NO. 8
Symphony of a Thousand
Mimi Coertse - Hilde Zadek - Ina Maliniuk Lucrezia West - Giuseppe Zampiere - Herman Prey - Otto Edelmann
Conducted by Dimitri Mitropoulos
Vienna State Opera Chorus
Singverein Gesellshaft der Musikfreuke, Vienna
Vienna Boys Choir - Vienna Philharmonic Orchestra
Salzburg Festival 1960
One of the great performances of Mahler's monumental work in an edition that soars in sonic splendor over all the previous editions we have auditioned. This offering retains the four-language commentary from the Salzburg Festival recreating the historic occasion when Mahler's greatest work was broadcast throughout Europe, Scandinavia, Africa, the US, Canada and South America. The bonus offers the andante movement from Mahler's Sixth Symphony and the final movement of Mahler's Ninth Symphony also conducted by Mitropoulos. The booklet offers texts about the performance, the composer and the work together with extensive recording notes. This really is the ultimate edition.
Top
---
Click on the images to enlarge
Wagner
Die Meistersinger
Friedrich Schorr - Elisabeth Rethberg - René Maison- Karin Branzell - Eduard Habich
Chorus and Orchestra of the Metropolitan Opera
Artur Bodanzky, 22 February 1936
Our 2013 restoration of this famed broadcast now offers good sound for this era and source. Includes commentary and curtain calls, extensive notes and rare photos; one of the truly great performances!
Top
---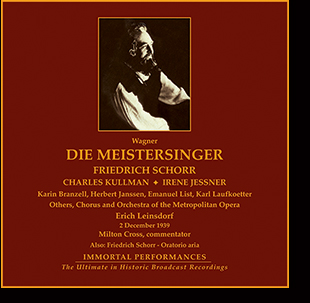 DIE MEISTERSINGER
Chorus & Orchestra of the
Metropolitan Opera
(2 December 1939)
Schorr, Kullman, Jessner, Branzell, Laufkoetter / Leinsdorf
Friedrich Schorr's famed performance as Hans Sachs and Charles Kullman's justly famed Walther (which he first sang under Toscanini's direction at Salzburg in 1936) is recorded in splendid sound, perhaps the best of all Met preservations in the 1930s and ­­1940s. Irene Jessner emerges as a surprisingly memorable Eva, with singing occasionally reminiscent of Tiana Lemnitz and, in Act III, Rethberg. List, Karin Branzell, Herbert Janssen and Karl Laufkoetter complete the cast. The young Leinsdorf directs an animated, propulsive and ultimately triumphant performance in which the Met chorus covers itself with glory. The overall effect is immensely inspiring, so much so that the broadcast (with complete commentary and curtain calls) seems representative of the entire era. A 52-page booklet, lavish with photos, offers texts about the work, the performances, and the composer, biographies and extensive recording notes.
Top
---
Click on the images to enlarge
| | | |
| --- | --- | --- |
| | | |
Vincenzo Bellini
NORMA
Joan Sutherland
Marilyn Horne - John Alexander - Richard Cross - others
Chorus and Orchestra of the Vancouver Opera
Richard Bonynge, 26 October 1963
World Premiere Release
Joan Sutherland's debut as Norma
Free Bonus Disc
SUTHERLAND: RARE BROADCAST ARIAS AND SCENES
Traviata - Meistersinger - Alcina - Lucia - Rigoletto - Tosca
IRVING GUTTMAN MEMORIAL
Sutherland's debut in the role in a much celebrated performance taken from the house lines. Also includes scenes of Sutherland as Tosca with Gobbi, Eva in Meistersinger, and other operatic excerpts as shown above. Extensive texts lush with many rare photographs of the production. (3 CDs for the price of 2)­­
From the booklet notes by Henry Fogel
"The role of Norma is one of the most challenging that a soprano can confront and Sutherland was one of the most important proponents of that role in the second half of the twentieth century (perhaps she, Callas, and Caballé were at their own level, with a host of others occupying the rungs below that). What is special about this set is that it gives us a live broadcast of Sutherland's first public performances of that role . . .
"Listening now to Sutherland's first attempt, one is astonished at her mastery of the role. There is nothing tentative about any aspect of her singing here. It is true, as has often been noted, that Sutherland did not display the unique kind of vocal acting that one heard from Callas. But it is in no way true that her Norma is a bland exercise in vocalism for the sake of a pretty sound. The combination of rage, hurt, tenderness, and humiliation that Norma experiences in this opera is present throughout Sutherland's performance. Her interactions with Marilyn Horne's brilliant Adalgisa are, in fact, alive and fully nuanced."
Top
---
Click on the images to enlarge
| | | | |
| --- | --- | --- | --- |
| | | | |
Leoncavallo
PAGLIACCI
Chorus and Orchestra of the Metropolitan Opera
Martinelli, Tibbett, Mario, Cehanvosky, Tedesco
10 March 1934
Vincenzo Bellezza, conductor
and
PAGLIACCI
  Recitar! (Martinelli) Vitaphone 1927
Final scene Chicago Opera, 1940
Martinelli, Zaplicki / Abravanel
IL TROVATORE
Met 15 February 1936
Act II, Sc. 1; Act IV portion; Act IV, sc. 2 complete
Martinelli, Rethberg, Bonelli, Meisle / Papi
Bonus: Interview with Martinelli and Albanese
GOOD SOUND FOR THIS ERA
From Henry Fogel's review published in FANFARE magazine's Nov/Dec 2014 issue:
"I have only been familiar with this 1934 Met Pagliacci on a dismal Walhall transfer, and found I could never get through it. What we have here is miraculous. . . . Caniell has cleaned up the material superbly — fixing pitch inconsistencies, bringing out real color from the voices, and reversing serious dynamic compression.
"There is another Martinelli Pagliacci, from 1936, but with Bonelli instead of Tibbett, and yet another from 1941 with Tibbett. But Martinelli surpasses himself here in 1934; this is the one to hear. . . the sound has plenty of ring, and he knew the style as almost no one else did. His sense of how to shape the music was innate and deeply held within him, and his willingness to give everything he had in performance made his appearances real events. . . This is a truly great performance, one that merits the over-used word "unique.". . . I found myself swept up from his entrance to the opera's conclusion.
"Tibbett is the other major asset of this performance. His is a richly sung and highly dramatic Tonio. Not only the Prologue, but the duet with Nedda is a true highlight.
"This is a performance of rare dramatic fire and with musical thrills galore, lovingly and brilliantly restored. If you care at all about Pagliacci and/or the verismo operatic tradition, you must know this performance, and only in this transfer.
"The other Pagliacci excerpts are valuable (the restoration of the 1927 Vitaphone recording shows us the younger Martinelli and reproduces the voice with remarkable color). . . The Trovatore excerpts (one scene is not from the Met but from a 1927 Vitaphone recording) are further illustration of Martinelli's skill, and his ability to sing lyrically when the music requires. Rethberg and Bonelli are excellent. . . the restoration is as good as it gets. The 18-minute interview with Martinelli and Albanese . . . is a wonderful additional bonus. As usual, the notes and photos that accompany the discs are all one could ask for."
Top
---
NEVER BEFORE AVAILABLE

PARSIFAL

Act I complete

Teatro Colon 1946




Torsten Ralf, Emanuel List, Herbert Janssen, Rose Bampton, Jorge Danton




Conducted by Erich Klieber




Also: Parsifal

Act I: Prelude and Transformation Scene to the end of the act

Act III: Good Friday Scene to the end of the act




Covent Garden 1937 / Vienna 1949




Torsten Ralf, Ludwig Weber, Herbert Janssen, Robert Easton




Conducted by Fritz Reiner / Rudolf Moralt




Also Parsifal: Rare 78 rpm discs



The album opens with a disc premiere of a 1946 Teatro Colón performance of Act I (complete) with Torsten Ralf, Emanuel List, Herbert Janssen and Rose Bampton conducted by Erich Kleiber in somewhat cramped sonics. Thereafter, in great sound, ensues a Parsifal from Covent Garden 1937. This includes the Prelude, the Transformation Scene through to the end of Act I; Act III: The Good Friday Scene to the end of Act III. Gurnemanz is marvelously sung by Ludwig Weber, Torsten Ralf is Parsifal and Herbert Janssen's much-celebrated performance as Amfortas communicates the reasons why he was so revered in this role. The bonus recordings offer rare 78s from Parsifal. The booklet offers extensive texts about the work, the composer and the singers together with rare pictorials and extensive recording notes. We believe this to be an edition that will be much cherished by connoisseurs of vocal art.
Top
---
Click on the images to enlarge
| | | | |
| --- | --- | --- | --- |
| | | | |
Borodin
PRINCE IGOR
Completed by Rimsky-Korsakov and Glazunov
Lyric Opera of Chicago
Boris Christoff – Igor Gorin


Consuelo Rubio, David Poleri, others

Rudolf Nureyev & Sonia Arova in the Polovtsian Dances

12 October 1962

Oskar Danon, conductor




Bonus


IGOR GORIN

Arie Antiche and Radio Interview



Gala performance included Nureyev in the Polovtsian Dances. Good sound, broadcast commentary; rare photos. Bonus: Interview w/Igor Gorin who sings Arie Antiche
From Henry Fogel's review published in FANFARE magazine's Nov/Dec 2014 issue:
" The principal value of this important release is Gorin's Igor, a towering achievement vocally and dramatically. His rich, resonant, firmly focused voice is based on an extremely sound technique, and he sings with presence and character. Those who really love this opera should know this performance, which is as richly characterized and beautifully sung as any.
"In addition to Gorin, this performance boasts Boris Christoff in the dual roles of Galitsky and Konchak . . . In his excellent notes, producer Richard Caniell notes that Christoff is not in quite as firm voice as he was on his earlier EMI Boris Gudonov recording. That may be true, but he sounds pretty good to me here, and with much firmer tones than he shows on the later EMI set.
"There is one more highlight in Prince Igor, and that is the tenor David Poleri's sensitive and lovely singing here. This version of Vladimir's Cavatina can stand with some of the finest.
"So the monumental presence of Christoff and the rich Prince of Gorin are the reasons for serious collectors to explore this set. That is especially true because of the added bonus of a 1961 studio recording originally on the Golden Crest label called Arie antiche, with Gorin accompanied very nicely by pianist Willard Straight. . . . A brief interview rounds out the Gorin material here.
"As usual, Immortal Performances's production standards are top of the line. The notes are both informative and interesting . . . overall this is a natural sounding early 1960s monaural radio broadcast, and for this kind of material the sound is really terrific."
Top
---
Click on the images to enlarge
FLORENCE QUARTARARO
Unknown Recordings - Arias - Duets
The Complete Collection
"The greatest singer of whom you've never heard."
Henry fogel, WMFT radio
Here are all the privately recorded songs, arias and duets from Madame Quartararo's collection, one third of which was published by us on Guild label in 2003 to widespread acclaim. Now, following repeated requests we publish the remainder of the recordings we hold (2 CDs) together with a free third CD re-offering the recordings we previously released on CD. The album was the subject of a radio program in August 2013 on WFMT in Chicago. The host of that program also wrote the notes for our album.
Top
---
Click on the images to enlarge
| | |
| --- | --- |
| | |
Verdi
RIGOLETTO
Piaro Campolonghi - Maria Callas - Giuseppe Di Stefano
Opera Nacional, Mexico City
Humberto Mugnai, 1952
THE CALLAS LEGACY
Our 2012 restoration of this important performance offers vivid sound with considerable clarity and immediacy, revealing a shining loveliness to Callas' voice previously absent due to a loss of overtones and the wrong pitch of numerous available albums. Includes two extensive articles about Callas. The broadcast transcriptions, with commentary in Spanish, offer natural tone, brightness and punch in the sonics. Please Note: A few performance failures marred this broadcast. These mishaps have been corrected in this restoration. Full details are to be found in the album booklet.
From Henry Fogel's review, Fanfare Nov./Dec. 2012:
"Callas's remarkable Gilda is this Mexico City performance from the beginning of her career, which imparts a special value to this release. . . especially when they learn that the sound is significantly superior to all prior versions . . . Even Myto's, which was the best CD version, is easily surpassed by Richard Caniell's efforts for his Immortal Performances label."
"The Inn scene with Sparafucile, Maddalena, and Gilda was a wreck in the original. . . [something] one cannot live with on repeated hearing in recorded form. . . [Caniell] replaced it with the same music from the EMI . . . and explains openly what he did in his superb notes . . . he has pulled it off brilliantly, getting the EMI sound to match the Mexico recording extremely well. He includes the Inn Scene material from the original as a bonus track, if anyone wishes to hear the mess."
"Caniell's notes about this performance, and about his approach to restoration, are a model of what kind of material should accompany historic reissues but rarely does."
Top
---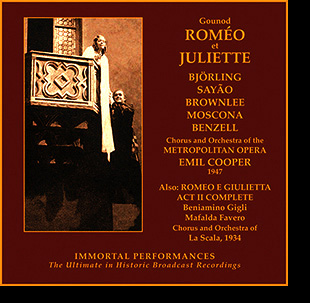 Gounod
ROMEO ET JULIETTE
Chorus and Orchestra of the
Metropolitan Opera (1 February 1947)
Jussi Bjoerling, Bidu Sayao, John Brownlee, Nicola Moscona, Mimi Benzell
Conducted by Emil Cooper
Bonus: Romeo e Giulietta
Act II complete
La Scala 1934
Beniamino Gigli and Mafalda Favero
This justly celebrated performance, which presents Bjoerling and Sayão at the height of their vocal and dramatic capacities, has been well circulated through numerous releases including the Met's own edition, offered for $125, but none of them come near the sonics of our edition. The album includes the broadcast commentary and offers a booklet lavish with photos and texts devoted to the singers, performance, composer and work as well as biographies and recording notes. As a bonus a premiere release of the complete performance of Act II of Romeo which was broadcast from La Scala in 1934 with Gigli and Mafalda Favero in sound superior to what has been previous made available (in excerpted form) by EMI and others. Hearing Bjoerling and Gigli in the same music presents a fascinating contrast in great singing and style.
Top
---
Click on the images to enlarge
| | |
| --- | --- |
| | |
Richard Strauss
DER ROSENKAVALIER
Lotte Lehmann
Risë Stevens - Marita Farell - Emanuel List - Friedrich Schorr - others
Chorus and Orchestra of the Metropolitan Opera
Artur Bodanzky, 1939
Though the source remains an A.M. radio recording, our 2012 restoration offers better sound than previously available, together with with some commentary and 2 interviews with Lotte Lehmann, as well as 34 rare photographs of the stage performance, articles about the singers and biographies. The bonus offers historic recordings from Der Rosenkavalier (1928-29).
From Henry Fogel's review, Fanfare May/June 2013:
"Richard Caniell's restoration of this 1939 broadcast surpasses all previous issues in quality, even including the Met's own lavishly produced (and lavishly priced) LP set. The sound is fuller, the voices truer and more natural, the sonic grit minimized to a degree I would not have thought possible . . . The sound is now listenable to anyone with an ear attuned to "historic" recordings, in a way that it never has been.
"So why can you not be without this? Primarily, but not solely, Lotte Lehmann in one of her greatest roles, caught in terrific voice and in a real performance. . . . Her Marschallin is one of the truly great operatic characterizations, worthy of mention with Chaliapin's Boris and Caruso's Canio, and to have it in this form is to have a treasure. In addition we get the young Risë Stevens's deftly characterized and beautifully sung Octavian, a relatively unknown Sophie in Marita Farell, but one who sings with the pure silver tone this music wants.
"This is a hugely important release to anyone who cares about this opera; even if you have the performance in an earlier incarnation, replacement is urgently recommended."
Top
---
Click on the images to enlarge
| | | |
| --- | --- | --- |
| | | |
Richard Strauss
DER ROSENKAVALIER
Lisa Della Casa
Christa Ludwig - Elisabeth Söderström - Oskar Czerwenka - Ralph Herbert - others
Milton Cross, commentator
Chorus and Orchestra of the Metropolitan Opera
Erich Leinsdorf, 26 December 1959
BONUS
DER ROSENKAVALIER SCENES
Lisa Della Casa, Mildred Miller, Dorothy Warenskjold
Los Angeles Philharmonic / Arturo Basile, 12 March 1959
World Premiere on Disc
Plus
Dorothy Warenskjold
Standard Hour Concerts 1948 - 1949
Debussy - Alfano - Charpentier
San Francisco Opera Orchestra / Pierre Monteux
An exceptional performance with Della Casa at her ravishing best - good sound, commentary, extensive notes and photos. Bonus scenes from Rosenkavalier with Della Casa, Miller, Warenskjold, Los Angeles Philharmonic, 1959. Never previously published. Excellent sound. (4 CDs for the price of 3)
From the booklet notes by Richard Caniell
"My regard for the performance released here centers on the remarkable trio of singers it assembles: beginning with Lisa Della Casa as the Marschallin, singing with elegance and exquisite tone, yet capable of an enriching characterization which was not yet hers to give in her first Met broadcast in the role (1956 – Kempe). She has Christa Ludwig, the best of the Octavians after Risë Stevens . . . In the Strauss commemorative issue of Opera Quarterly (Summer 1999), Robert Baxter assesses all the recorded Rosenkavaliers and states as to Ludwig's Octavian, that she embodied an ideal. 'Her ample, creamy voice — neither Jurinac nor Fassbänder can match Ludwig's opulence — makes her a vocal paragon. No other Octavian sings with such unfailing beauty and ease.' Joined to these two in laudable casting was Elisabeth Söderström as Sophie, the soprano who Stephen Hastings, in his remarkable book The Björling Sound, refers to as "the finest Swedish singing actress of her generation.' "
Top
---
Click on the images to enlarge
| | |
| --- | --- |
| | |
SET SVANHOLM
Unknown Lieder Recitals
1949 & 1952
Schubert - Brahms - R. Strauss - Rangström - Grieg- Sibelius -Wagner
Scenes from Tristan und Isolde (1950) and Die Meistersinger (1949, 1956)
Svanholm, famed in Wagnerian roles, is presented here in two little known lieder recitals, U.S. (1949) and Vienna (1952), providing new insights into his vocal art. A new release in our Famous Voices of the Past series.
From Raymond Beegle's review, Fanfare May/June 2012:
"Although Set Svanholm is several years younger than Karl Erb, they represent the same Zeitgeist, comprised in part, of simplicity and directness, as well as a deep connection with nature and the human heart. One finds a kindred clarity, brilliance, and beauty of sound, a helden quality . . . . "
"Svet Svanholm's two recitals presented on this disc are very compelling, and at times magical. There are moments approaching perfection, as in the Library of Congress performance of Dein blaues Aug although one encounters throughout both performances chronic technical difficulties . . . The purity and sincerity of Svanholm's delivery carries the day . . . No one today sings the songs of Schubert and Brahms with the depth and guilelessness he possessed, though many are more polished. "
Top
---
Click on the images to enlarge
| | |
| --- | --- |
| | |
Verdi
SIMON BOCCANEGRA
Tibbett - Rethberg - Martinelli - Pinza – Warren
Chorus and Orchestra of the Metropolitan Opera
Ettore Panizza, 1939
In Honor of the Verdi Bicentennial
This renowned performance has been repeatedly released on CD by many labels, all being clones of the Met set. This means highly compressed, lifeless sound with a metallic resonance. Our 2013 restoration offers the best sonics ever available with considerable vocal presence, natural tone and dimensionalization of the ensembles so as to recreate in dynamic values, one of the most exciting and truly great performances of the late 1930s.
From Henry Fogel's review, Fanfare Nov/Dec 2013:
"Until now, this 1939 Met broadcast could only be recommended to collectors who had a wide tolerance for "historic" sound. What Richard Caniell of Immortal Performances has done here is close to miraculous. . . . The dynamic range has been extended, removing the effects of electronic compression. (Surface) noise has been removed without removing color from the voices; and the whole jumps out of the speakers as the incredible performance that it is.
"Tibbett is gigantic as Boccanegra. . . this is one of the great operatic portrayals ever, period . . . the same can be said about Pinza. Beauty of tone, nobility of expression, strength and eloquence, it is all there. Rethberg perhaps gains the most from Caniell's remastering. . . her voice glows with a warmth that previous editions of this performance managed to minimize. Martinelli's feeling for the style is complete, he has power, and he also has the ability to moderate his voice and sing softly . . . There are moments that are truly thrilling, alongside moments where one wishes for more tonal beauty . . . . But the greatness of the artist is always present when Martinelli sings.
"Immortal Performances's usual stunning production standards are present. The booklet contains intelligent, thoughtful notes on the performance and the artists, wonderful rare old photos, and insightful comments on the opera itself. Real Verdi lovers . . . would be quite foolish to pass this one up. It provides operatic thrills that frankly none of the studio recordings can duplicate, not even the best of them."
Top
---
Click on the images to enlarge
| | | | |
| --- | --- | --- | --- |
| | | | |
Wagner
TANNHÄUSER
Lauritz Melchior, Kirsten Flagstad, Kerstin Thorborg, Lawrence Tibbett, others
Metropolitan Opera
18 January 1936
Artur Bodanzky, conductor
Also:
TANNHÄUSER
Act III Complete
Melchior, Müller, Janssen, Jost-Arden
Chorus and Orchestra of the Bayreuth Theater
Karl Elmendorff and other conductors
A recreation of the 1930/1931 Bayreuth performances restoring all the music cut in the Columbia recording. See more details at the bottom of the review section for this release
Best sound over all other editions. Includes articles about the composer, the work, singers & performance.
From Henry Fogel's review published in FANFARE magazine's Nov/Dec 2014 issue:
"To have in one performance, even if it existed only in our dreams, Melchior, Flagstad, Thorborg, Tibbett, and List is to have as close to a Wagnerian ideal as there is. . . .The key to any performance of Tannhäuser is the tenor in the title role, and it is doubtful that there was ever a better one than Melchior. Seven Met broadcasts exist in some form featuring the great Dane, most having been released on multiple labels . . . Of those, I am familiar with 1941 (on Arkadia CDs), 1942 (Music & Arts), 1944 (Gebhardt), and 1948 (Myto). In all cases the transfers are not very good, exhibiting pitch problems, muffled sound leading to colorless voices, and dynamic compression.
"For this transfer . . . Caniell has gotten a far superior, more natural, orchestral and vocal sound from the material than is even heard on some of the other labels' later performances. What we have here sounds like the voices we know from later studio recordings, caught in the heat of performance.
"Melchior was as good as it gets in this fiendishly (difficult) role, retaining freshness of voice throughout the opera and characterizing the music with more specificity and dramatic meaning than he is usually credited with. The sound itself is glorious, his ability to sing an even, gentle legato and then to let his voice peal forth with glorious power without ever losing richness of tone is unique to him among Heldentenors. Captured here in his prime, he gives a performance to treasure.
"This is the only recording Tibbett left of a complete German role . . . and if there has ever been a Wolfram with a richer or more beautiful timbre I have not encountered him. He, like Melchior, is capable of a seamless legato, and his singing of the Hymn to the Evening Star has far more of a face to it than his studio recording.
"Flagstad too contradicts the clichés about her glorious voice being married to a too stolid temperament. She sings with variety of color and dynamic shadings, and inflects with specificity in a way that brings Elisabeth vividly to life. And indeed that voice is something of a miracle of nature in its glow and evenness from top to bottom.
"The principal issue in this Tannhäuser is Margaret Halstead's Venus, a completely unacceptable singer in the company of Melchior, Flagstad, Tibbett, and List. She was apparently a last-minute substitute for Gertrude Wettergren. Caniell has substituted Kerstin Thorborg from a 1941 Met broadcast . . . The insertions are extremely natural and smooth, sonically and musically, and one is not jarred. For those who wonder about the justification for this kind of technical wizardry, Caniell has inserted after the conclusion of the first act some excerpts of Halstead's performance. It is fairly gruesome singing, with intonation problems and a hollowness of sound that is really hard on the ear. What is particularly impressive is that instead of just lifting Thorborg/Melchior from 1941, because he wanted to keep Melchior from 1936 (where Thorborg wasn't present) he had to keep switching between the two performances when they sang sequentially. That one cannot hear it is an impressive achievement. "
"Thorborg's rich vocal colors and sensitive shaping of Venus's music more than justifies Caniell's decision to bring her in from 1941 to remove the disastrous Halstead. None of the insertions are audible, and if we weren't told . . . we would never realize that this was not a single performance.
"The individual bonus recordings speak for themselves—all are famous among collectors, and all have been restored lovingly and beautifully. . . As is normal for Immortal Performances, there are excellent notes about the opera itself, the singers involved, and the history of the recording as well as insights into the thought processes of Caniell in putting this together. "
Top
---
Click on the images to enlarge
Wagner
TANNHÄUSER
Lauritz Melchior, Helen Traubel, Herbert Janssen

Kerstin Thorborg, Alexander Kipnis, others
Metropolitan Opera
19 December 1942
George Szell, conductor
Also:
HOLLYWOOD BOWL CONCERT
Lauritz Melchior - Helen Traubel
Lohengrin Bridal Chamber Scene (complete)
Grail Narrative
Los Angeles Philharmonic Orchestra
Eugene Ormandy, conductor
1948
This famed performance offered in our recent restoration has very good sound. Includes Milton Cross commentary and curtain calls, extensive articles about the performance, singers and composer, as well as rare photos.
Top
---
Click on the images to enlarge
ARTURO TOSCANINI
NBC Symphony Orchestra
All Wagner Benefit Concert
Lauritz Melchior - Helen Traubel
Carnegie Hall - 22 February 1941
Lohengrin - Tannhäuser - Die Walküre
Götterdämmerung
Bonus: Rienzi Overture, The Flying Dutchman Overture (with rehearsal segment), Tannhäuser Prelude to Act III (Original full length version)
Three discs for the price of two
Remastered from a new source with a substantial improvement in sonics over our previous Guild Music release. Plus: two rehearsal portions from Die Walküre. Bonus: Overture to Rienzi, Flying Dutchman rehearsal & broadcast, Tannhäuser Prelude Act III
Top
---
Click on the images to enlarge
| | |
| --- | --- |
| | |
ARTURO TOSCANINI
NBC Symphony Orchestra
All Tchaikovsky Benefit Concert
Voyevoda Overture, Op. 3
Symphony No. 6 in B Minor, Op. 74 (Pathétique)
Concerto No. 1 in B-Flat Minor, Op. 23
Vladimir Horowitz, pf
NBC Symphony Orchestra
19 April 1941
Symphony No. 6 in B Minor
Rehearsal Extracts of 1st and 4th Movements
Best sound over all previous editions. Extensive notes and broadcast commentary and ovations.
From the Recording Notes by Richard Caniell: "This 1941 broadcast of the Sixth Symphony and Piano Concerto was released by us through Naxos, but they omitted the Voyevoda and the commentary without our knowledge or permission, and the sound was denigrated in a loss of overtones, in some sound compression of the tuttis and in a thickening of the bottom end, hence this release of the complete concert."
"Our original tape of this broadcast from Gardner revealed the transfer from the lacquers to be good, the surface noise sporadic and not excessive and the dynamics needing only a little emphasis to reverse the leveling which the original broadcast engineers imparted to the sound transmission. Its many pitch problems were solved by the young conductor John Sullivan, who is our music consultant. We believe the All-Tchaikovsky Benefit Concert to be a worthy addition to our knowledge of Toscanini's involvement with these works and represented the first occasion when Horowitz and Toscanini collaborated in the First Piano Concerto."
---
Click on the images to enlarge
| | |
| --- | --- |
| | |
ARTURO TOSCANINI
BRAHMS CYCLE 1935
Philharmonic-Symphony Society of New York
Concerts of 24 February, 17 March, 31 March, 7 April
Derived from private recordings that have preserved four of the six concerts that were broadcast, our restoration offers Heifetz in the Violin Concerto and Horowitz in the First Piano Concerto, among many other works. On-pitch transfers with best sound. Another valuable addition to our Toscanini Legacy series.
From Colin Clarke's review published in FANFARE magazine's Nov/Dec 2014 issue:
"As a window into Toscanini's fire-hot Brahms, this can hardly be bettered. . . . There is more impetuosity in the orchestral contributions to the Heifetz account of the violin concerto, which acts as an indispensable complement to that violinist's Boston and Chicago commercial accounts. The warmth, both orchestrally and from the solo, comes through the intervening years. The violin (sound) is excellently preserved here. . . .
"Matching the high level of soloist for the violin concerto is Vladimir Horowitz for the First Piano Concerto. . . sonic problems here are particularly intrusive . . . yet, on the other side of the coin, the gossamer strings of the central slow movement serve surprisingly well . . . If the soloist and conductor are (famously perhaps) not ideally matched, there is plenty of fire from both in the finale. . . . this remains a stimulating and unmissable performance.
"Toscanini followers will need no prompting to purchase this set. The sterling work at Immortal Performances continues."
Top
---
Click on the images to enlarge
LUCERNE CONCERTS
La Scala Orchestra
BEETHOVEN - WAGNER - R. STRAUSS TOSCANINI
5, 7 July 1946
The 7th of July Concert, published complete for the first time, is in excellent sound. This album also includes a performance of Strauss' Death and Transfiguration, professionally recorded at the Festival. (It is erroneously stated in our booklet material that this Death and Transfiguration is a world premiere – we have since learned this is not the case.) The bonus offers two performances: Smetana's The Moldau and Strauss' Don Juan from the 1949 Venice Music Festival in less good sonics. Booklet text concerning the performances, recording notes and photos, combine to present a vivid aural portrait of Toscanini's first European performances after the war.
Top
---
RARE RECORDINGS FROM THE NEW YORK PHILHARMONIC SERIES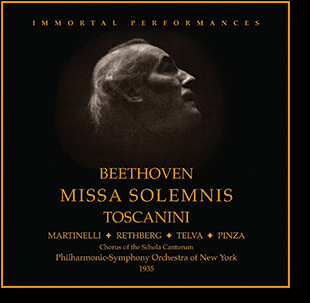 ARTURO TOSCANINI
Philharmonic-Symphony Orchestra
of New York
28 April 1935
MISSA SOLEMNIS
Martinelli, Rethberg, Telva, Pinza
Chorus of the Schola Cantorum
Bonus:
1935 Met Simon Boccanegra
Act I, Scene 1 complete
Rethberg, Martinelli, Pinza, Tibbett
Harvey Sachs , in his famed book about Toscanini, writes of the three Philharmonic performances of the music that they were:
" . . . of breathtaking depth and majesty; they are
relaxed and flexible yet precise and fluent"

This important performance, previously published in exceedingly poor, off-pitch sound, is here offered in a sonically restored edition. The booklet text is by John Steane, the article about the composer and the Missa is by Richard Caniell, as are the extensive Recording Notes. The bonus offers the complete Act I, Scene 1 of Simon Boccanegra, Met 1935, a conjunction suggested by Mr. Steane as an interesting contrast in hearing two performances by Martinelli, Rethberg and Pinza in the same year. The album also offers two short interviews with Rethberg and Martinelli about their experience with Toscanini, together with photos of the singers in both broadcasts making this an album to treasure.
IMPORTANT NOTICE: NEWLY REVIEWED, COMPLETELY REMASTERED DISCS
The 1935 Missa Solemnis conducted by Toscanini means the world to our Sound Engineer, Richard Caniell, and he has spent untellable hours, weeks, from month to month over the past three years on it. Even after we released it and it was reviewed and purchased by many music lovers, he nonetheless kept returning to it, hoping to yet improve its sonics. Recently he achieved a significant break-through in sound improvement – in clarity, in tone, in the divisions between the choral voices and the orchestra, and in more natural sound (which was greatly injured by the private recording and AM transmission). We now offer this re-mastered version, which includes a brief booklet dedicating the album to John Steane, as well as describing the improvements. (See link below to reviews of this new edition in Fanfare's pages). For those who have previously purchased the earlier edition from us, the two remastered CDs will be provided for a minimal cost-covering fee of $10.00, to be included with some other of your purchases, or with the addition of postage costs if obtained by itself. (Contact us.)

(Click here to read more details.)
Top
---
Click on the images to enlarge
| | |
| --- | --- |
| | |
ARTURO TOSCANINI
NBC Symphony Orchestra
Two Complete Concerts
20 April 1940 Concert
Elgar: Introduction and Allegro for Strings, Op. 47
Mozart: Symphony No. 41 "Jupiter" in C Major, K. 551
Dvorak: Scherzo Capriccioso, Op. 66
Mussorgsky: Pictures at an Exhibition
9 April 1944 Concert
Wagner: Parsifal Prelude and Good Friday Spell
Mendelssohn: Concerto for Violin and Orchestra in E Minor, Op. 64
Jascha Heifetz, violin
Bonus: Rehearsals for the 20 April 1940 Concert
Very good sound, includes a free third CD of rehearsal portions of the four works heard on 20 April 1940. The 9 April 1944 Wagner has improved sound and the Mendelssohn Violin concerto (Heifetz) is on pitch.
From David Canfield's review published in FANFARE magazine's Nov/Dec 2014 issue:
"This set is recommended highly, and not only to Toscanini enthusiasts who will particularly welcome its issuance, but to all aficionados of great conducting and historical musical documents.
"The sound is rich and full, and rather astonishing for the technology of the era, given its presence and vitality.
"The Elgar Introduction and Allegro that opens the concert is a vibrant reading, with the solo string quartet of the NBC orchestra playing with almost a Heifetz-like intensity. . . Toscanini extracts every ounce of passion from his forces in this dynamic performance.
"Toscanini reduced the size of his string section for the following "Jupiter" Symphony of Mozart to maintain proper balance between the sections. . . . Every line herein is clearly delineated and every woodwind interjection clearly audible in Toscanini's meticulous balancing. [My] colleague [Mortimer] Frank is quoted in the program notes as preferring this performance of the "Jupiter" to the two later Toscanini readings captured on tape, calling this performance 'free from excessive haste, texturally transparent, and remarkably flexible in rhythm.' "
[The estimate of Pictures of an Exhibition (Orchestrated by Ravel) is given considerable length in this review, so you are referred to the complete text. Other aspects of the album connected to the 9 April 1944 concert and the Bonus disc of rehearsal excerpts are also set forth in the complete text of this lengthy assessment.]
Top
---
Click on the images to enlarge
| | |
| --- | --- |
| | |
ARTURO TOSCANINI
Philharmonic-Symphony Society of New York
Two Complete Concerts
2 February 1936 Concert - Carnegie Hall
Bach: Brandenburg Concerto No. 2
Brahms: Concerto No. 2 in B-flat major
­­Robert Casadesus, pf
Beethoven: Coriolan Overture
Beethoven: Symphony No. 4 in B-flat major
Bonus: Beethoven – Triple Concerto (1942)
Complete Concert 19 April 1936
All Debussy
Le Martyre de Sai­nt-Sébastien: Le Cour d'Lys
Prélude à l'après-midi d'un faune
Nuages - Fêtes - Ibéria
La Damoiselle Élue
(Bidú Sayão - Rose Bampton)
Women's Chorus of the Schola Cantorum
La Mer
Four discs for the price of three
This private off-the-air recording of a memorable concert in Toscanini's last year with the Philharmonic has been very extensively worked upon to correct many pitch variances, minimize surface noise, fill in turnover gaps, and improve the dynamics that were compressed by the radio broadcast limiters. While in better sound than some home-recorded discs, the surface noise can rather high in some places, and while these don't offer sonics of modern recordings, they are all we have and are, thus, a treasurable part of our cultural legacy.
The bonus Beethoven Triple Concerto, though noisy, has remarkable presence and focus of sound, hugely improved over the gravely over-filtered Naxos version that we endured with their re-engineering of our restoration, now released in this album with much relief.
The All Debussy concert offers somewhat better tone and dimension than what has been previously available, with many pitch problems corrected, and dynamics expanded to compensate the poor microphone placement and radio limiters of the time. The magazine Musical America devoted an entire page to this concert, its reviewer (Oscar Thompson) writing that ". . . as a program, this was the outstanding novelty of the orchestral year," one which was "among the most distinctive of Toscanini's American achievements . . . in finish, balance of parts and beauty of tone, Toscanini's orchestral performance could scarcely have been surpassed."
Top
---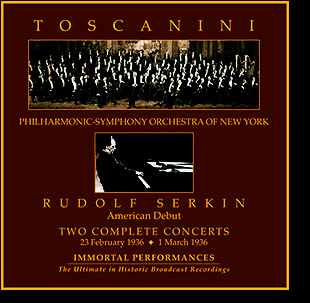 ARTURO TOSCANINI
PHILHARMONIC-SYMPHONY OF
NEW YORK
COMPLETE CONCERT: 1 March 1936
Weber - Verdi - Debussy
Goldmark - Wagner
with Dusolina Giannini, soprano
Milton Cross, commentator
and
COMPLETE CONCERT: 23 February 1936
Beethoven: First Symphony
Beethoven: Piano Concerto No. 4
Mozart: Piano Concerto No. 27
Rudolf Serkin, pf (American Debut)
Bach: Toccata and Fugue - Orchestrated by Sir Henry Wood
(with full broadcast commentary)
The legacy of private recordings made of the New York Philharmonic broadcasts of the 1935 and 1936 seasons when they were directed by Toscanini have had little circulation and those which have been reproduced have been in appallingly bad sound (with gaps every 15 minutes while the private recordist changed discs). The reasons for this dismal state of affair is set forth in this album but there is a bright side: our discovery of the first generation copy of the original lacquers. These provide superior sonics and, while the lacquers are sporadically noisy, a rich experience of the two concerts is now possible. There are no gaps and broadcast commentary is included for both performances. The booklet offers extensive texts about the performances and includes detailed recording notes. This is the first in a planned series of Toscanini New York Philharmonic restorations we will be releasing, albums that we believe will justly be considered the ultimate editions.
Top
---
Click on the images to enlarge
| | |
| --- | --- |
| | |
RED CROSS BENEFIT CONCERT
New York Philharmonic and NBC Symphony Orchestras
Leonard Warren, Zinka Milanov, Jan Peerce, Nan Merriman, Nicola Moscona
600 Voice Chorus
WAGNER - VERDI - SOUSA TOSCANINI
Madison Square Garden - 25 May 1944
Of all the many wartime benefit concerts conducted by Toscanini, this one, performed in the old Madison Square Garden before an audience of over 19,000 music lovers, was the most stupendous. For this occasion the New York Philharmonic and the NBC Symphony were fused into one orchestra of over 200 musicians. With a chorus of 600 voices, and with famed soloists from the Metropolitan Opera, this is a concert of historic importance. Superb sound; extensive program notes. The bonus presents the VE Day broadcast in which Toscanini conducted the Beethoven Fifth Symphony
This immense concert offers, among other memorable performances, what may be the most electrifying, deeply moving performances of the Liebestod from Tristan und Isolde ever conducted by the Maestro. For those who revere these artists, musicians and conductor, this is the ultimate, never to be forgotten, memento of an unparalleled musical event.
Top
---
Click on the images to enlarge
| | |
| --- | --- |
| | |
ARTURO TOSCANINI
VERDI REQUIEM
BBC Choral Society
BBC Symphony Orchestra
Milanov - Roswaenge - Thorborg - Moscona
Broadcast 27 May 1938
with commentary and ovation
Bonus
Beethoven Fourth Symphony in B-Flat Major, Op. 60
BBC Symphony Orchestra
Broadcast 19 May 1938
with commentary and ovation
"The Immortal Performances restoration of the 1938 Verdi Requiem BBCSO is startlingly better than Testament and shows what has been greatly missing until now - its fine presence and frequency range."
Christopher Dyment, author of Toscanini in Britain
Best sound over all previous editions. Extensive notes and broadcast commentary and ovations.
Recently, Mr. Caniell's attention returned to this BBC 1938 Verdi Requiem broadcast previously released in a good transfer by Testament, though our sound engineer had different ideas of how it should sound. Testament's exceedingly wide distribution cancelled his intent to work on, and release, the BBC until now, 10 years later. During these intervening years of enlarged experience with restoration techniques, Mr. Caniell re-affirmed that while the Testament edition was good, its sound was compressed in a way that could be made far better.
Mr. Caniell's transfer is taken from the tapes given to him by Richard Gardner, Toscaninni's sound editor. Mr. Caniell writes in his Recording Notes: "What you have in your hands is the result of my endeavor to open up the tonal spectrum, reduce the thick bottom end, and enliven the performance by restoring lost overtones. In addition, I endeavored to further restore the dynamics between piano and forte, recreating, so far as possible, the heaven-storming crescendi that the Old Man achieved with the BBC forces."
---
FROM TOSCANINI'S PERSONAL COLLECTION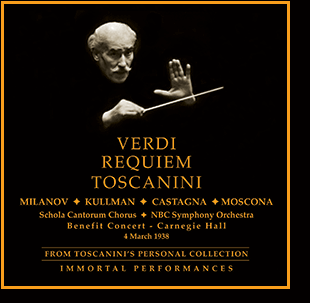 ARTURO TOSCANINI
NBC SYMPHONY ORCHESTRA
4 March 1938
VERDI REQUIEM
Milanov, Kullman, Castagna, Moscona, Westminster Choir
Benefit Concert - Carnegie Hall
Bonus:
All-Verdi NBC Concert, 31 January 1943
Peerce, Della Chiesa, Moscona / chorus
Two Complete Concerts
"Of the six recordings of Toscanini's performances of the Verdi Requiem known to me, the 1938 NBC performance seems to me in many ways the most beautiful and most remarkable of them all."
Harvey Sachs, author of Toscanini
One of Toscanini's most memorable achievements with this great work, never broadcast in the U.S., in good sound. Perhaps Milanov's greatest singing of this music. This virtually unknown performance with the NBC Symphony, from Toscanini's personal collection, was passed down from Toscanini to Richard Gardner, his sound engineer, who in turn gave it to our archivist and sound engineer, Richard Caniell. A stupendous performance! Bonus: All Verdi NBC Concert, 31 January 1943 with Peerce, Della Chiesa, Moscona and chorus. The concert includes music from Forza del Destino, Nabucco, Traviata, Otello and the first U.S. performances of Hymn of the Nations in an electrifying performance. Much of this program has not been previously released.
Top
---
Click on the images to enlarge
Verdi
La Traviata
Puccini
Madama Butterfly
Albanese Centenary - Double Album
4 discs for the price of 3
La Traviata
Licia Albanese - Charles Kullman - Lawrence Tibbett
Chorus and Orchestra of Metropolitan Opera
Cesare Sodero, 5 December, 1942
BONUS:
Albanese singing in excerpts from La Wally, Andrea Chénier, and Otello
Madama Butterfly
Licia Albanese - Armand Tokatyan - John Brownlee - Lucielle Browning
Chorus and Orchestra of Metropolitan Opera
Gennaro Papi, 5 January 1941
BONUS:
Albanese singing in excerpts from Otello, Pagliacci, Faust,, and Carmen
Albanese's first Met performances of these roles in good sound. Certain portions of the 1942 broadcast (Traviata) augmented by passages from 1944. Albanese's youthful voice is a complete delight.
Top
---
Click on the images to enlarge
| | | | |
| --- | --- | --- | --- |
| | | | |
Wagner
TRISTAN UND ISOLDE
Covent Garden
Royal Opera, London Philharmonic
Melchior, Flagstad, Klose, Janssen, Nilsson, others
Acts I and II, 18 June 1937
Act III with Branzell and Schöffler, 22 June 1937
Sir Thomas Beecham, conductor
Bonus:
TRISTAN UND ISOLDE
Act Two Complete, 22 June 1937
Covent Garden
Melchior, Flagstad, Nilsson, Schöffler, Branzell
Sir Thomas Beecham conducting
THE CORONATION SEASON
One of the most important releases in our history, this unforgettable performance in a new restoration: best sound ever, extensive notes and rare photos. Includes long missing Act I  finale from 18 June 1937. Bonus: extra Act II from 22 June 1937. Steane talks about the Covent Garden 1937 season; Beecham conducts Vaughan-Williams' Flourish for the Coronation, London Philharmonic and Chorus 1937 premiere on disc. The ultimate edition!
From Henry Fogel's review published in FANFARE magazine's Nov/Dec 2014 issue:
" . . . an utterly remarkable performance of Tristan und Isolde available now in a version that so completely supersedes all prior versions as to render them irrelevant. Richard Caniell has given his usual attention to detail, removing hiss, grit and noise to the extent possible but without destroying the color of the voices and the orchestra. . . If you told me I could take only one to that mythical desert island, I would choose this one.
"Flagstad is often accused of being matronly, stolid, lacking in passion. To be sure, there are performances of hers that merit at least some of that criticism, though for me it always pales when set against the sheer glory of the voice itself. But this performance, perhaps inspired by Beecham, shows Flagstad not only at her vocal best, but responsive to text and to dramatic moment. She is girlish, she is impassioned, she is anguished, she is furious, she is tender; she is, in short, a complete Isolde. In no prior releases of this performance did her voice glow and shine the way it does in Immortal Performances's transfer. The rich beauty of her top notes comes through with remarkable impact.
"Melchior too benefits from the sonic improvements of this edition . . . This is the Tristan of one's dreams, combining urgency, vocal beauty, and a very musical way of putting forth a phrase.
"The other prime beneficiary of the superb sonic restoration here is Beecham, or rather Beecham and the orchestra. No other edition of this performance offers this degree of richness and variety of orchestral color, this dynamic range, and in particular this beauty of string tone. . . What we have here is one of the greatest performances of that opera ever to be captured in recorded form, finally transferred in a way that respects the quality of the music-making and brings it all vividly to life.
"Richard Caniell also gives us extensive and thoughtful notes that are way beyond what we get in most releases, either by the major record companies or certainly those specializing in historic material. . . And one must also note the wonderful photographs included in the two accompanying booklets.
"There are many labels, major companies and small independent producers, that make historic material available. None does it with the consistently high standards of Immortal Performances. Those of us who believe that the history of the art form of opera must be well documented, for our own enjoyment and for future generations, owe this company an enormous debt of gratitude."
Top
---
Click on the images to enlarge
Wagner
TRISTAN UND ISOLDE
Orchestra and Chorus of the Metropolitan Opera
Lauritz Melchior, Kirsten Flagstad, Kerstin Thorborg

Julius Huehn, Ludwig Hofmann, others
2 January 1937
Artur Bodanzky
Commentator: Milton Cross
Bonus:
BBC Interview: Flagstad talks about singing Wagner
DIE WALKÜRE: Act II - Todesverkündigung
(Never previously published)
Kirsten Flagstad - Lauritz Melchior
San Francisco Opera Orchestra, 1939
Edwin McArthur, conductor
Best on-pitch sound over all previous editions, commentary and curtain calls by Milton Cross, extensive texts about the performance, singers, composer, recording notes and rare photos. Bonus offers the Todesverkündigung from Walküre, Act II, San Francisco Opera, 1939, never previously published.
Top
---
Click on the images to enlarge
Wagner
Tristan und Isolde
ACT III COMPLETE
Lauritz Melchior, Göta Ljungberg, Herbert Janssen
Ivar Andresen, Genia Guszalewicz, Peter Klein
Celebrating Tristan performances
in which these singers appeared together.
A seamless fusion of broadcast and 78 rpm recordings.
This is a memento of occasions in which Melchior and Ljungberg sang together in the 1930s at the Met and Covent Garden, in performances which included Janssen and Andresen. A powerful and utterly haunting performance in excellent sound for this era. The booklet offers rare photographs of the singers in their roles, biographies, a track-related synopsis and an extensive article about the memorable qualities which these voices brought to Wagner's tragedy. The bonus recording is an excerpt from Wagner's Die Meistersinger, Act II, Gut'n Abend, Meister, sung by Ljungberg and Friedrich Schorr (conducted by Lawrence Collingwood, London Philharmonic, 1931)
Top
---
Click on the images to enlarge
Verdi
IL TROVATORE
Chorus and Orchestra of the Metropolitan Opera
11 January 1941
Jussi Björling, Norina Greco, Francesco Valentino, Bruna Castagna
Nicola Moscona, Maxine Stellman, others

Ferruccio Calusio, conductor
Bonus:
FIRESTONE HOUR - JUSSI BJÖRLING
10 March 1952
Never previously available
This thrilling performance presents the Björling broadcast in superb sound with commentary by Milton Cross. The notes are by Stephen Hastings, the much-esteemed author of The Björling Sound. Also included are biographies and recording notes, plus rare photos.
Top
---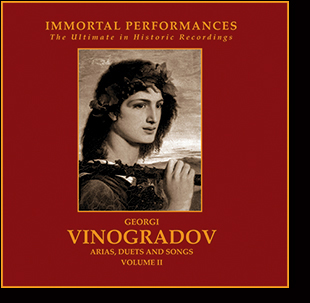 THE RUSSIAN LEGACY
VINOGRADOV
Premiere
Arias, Duets and Songs
Volume II - New Discoveries
Volume II - New Discoveries We first issued a 4-disc album devoted to the singing of Georgi Vinogradov (Guild Historical 2250-3) which drew critical raves and which won Best Vocal Album 2004 from a jury of eleven famed music critics convened by Classical Record Collector magazine. Since then many inquiries have been received as to whether any other recordings existed of this extraordinary tenor. Our answer to this is this second volume which offers all the discs we had, which were omitted from the first album, or those since located. Here is a lyric tenor voice that possesses those singular attributes that make his singing unforgettable and worthy of standing in the ranks of the truly great, such as Schipa, Gigli and a very few others.
Top
---
Click on the images to enlarge
| | | | |
| --- | --- | --- | --- |
| | | | |
Wagner
DIE WALKÜRE
Vocal Ensemble and Orchestra of the Metropolitan Opera
Melchior, Flagstad, Lawrence, Schorr, Thorborg, others


18 December 1937

Artur Bodanzky, conductor (and others)




Bonus


DIE WALKÜRE

Act I, Scene 3

Marjorie Lawrence - Lauritz Melchior

Erich Leinsdorf, 1940



A reconstruction of the 1937 broadcast in which Flagstad sings Sieglinde, drawn from private recordings, with some Act I passages in not very good sonics, the balance in good sound for the era. With Milton Cross commentary and curtain calls. Extensive booklet notes and rare photos.
From Henry Fogel's review published in FANFARE magazine's Nov/Dec 2014 issue:
"Given the almost knee-jerk reaction to Flagstad among critics as "matronly," many will be surprised at the femininity of her Sieglinde. Her voice positively glows, and she and Melchior are a thrilling pair . . . It is true that Flagstad lacks the ability or willingness to inflect with the kind of specificity that was a Lehmann specialty. But this Sieglinde makes her impact through, as Caniell himself puts it, floods of glorious tone.
"(The booklet's annotator) Dewey Faulkner points out the thrilling singing she does in the opening war cries, and in so much else of her singing. She had both the low and high notes required by the role, a voice of glowing beauty, and a keen dramatic sense as well. Her Brünnhilde is somewhat more human and more vulnerable than many we have encountered, and it is a complex and convincing portrayal.
"Schorr was the Wotan of his day for a reason, and it is demonstrated here by both his ability to characterize with tone color and his ability to sing the music both beautifully and forcefully at the same time. The interchanges between Schorr and Lawrence never feel like merely great Wagnerian singing, but actually engage us as real music drama.
"The sound after the first act gets progressively better, and in much of Acts II and III is actually quite good, and far superior to any prior versions. The voices and the orchestra really come to life in this transfer . . . While the base for the performance is the December 18, 1937 Met broadcast of Die Walküre [which had the "dream" cast of Melchior, Flagstad, Lawrence, Schorr, List, and Thorborg], producer Richard Caniell had to make replacements from other performances, mostly from the Met in 1935, 1940, and 1946 . . . relying on portions of the December 18, 1937 broadcast recorded by a collector who focused only on Flagstad in the second and third acts. . . three quarters of what we hear is conducted by Bodanzky, and the remainder by Leinsdorf (1940 Met) or Paul Breisach (1946 Met).
"The bonus excerpts from the 1940 Met broadcast with Lawrence as Sieglinde and Melchior as Siegmund, and Leinsdorf conducting, is a perfect extra. Immortal Performances includes some commentary by Milton Cross, which of course re-creates the atmosphere of the way so many of us heard these broadcasts . . . The usual lavish booklet, with superb essays and photographs, accompanies the discs."
Top