---
NEWEST EDITIONS ON IMMORTAL PERFORMANCES' LABEL!
---
FROM TOSCANINI'S PERSONAL COLLECTION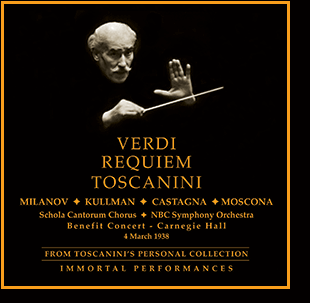 ARTURO TOSCANINI
NBC SYMPHONY ORCHESTRA
4 March 1938
VERDI REQUIEM
Milanov, Kullman, Castagna, Moscona, Westminster Choir
Benefit Concert - Carnegie Hall
Bonus:
All-Verdi NBC Concert, 31 January 1943
Peerce, Della Chiesa, Moscona / chorus
Two Complete Concerts
One of Toscanini's most memorable achievements with this great work, never broadcast in the U.S., in good sound. Perhaps Milanov's greatest singing of this music. This virtually unknown performance with the NBC Symphony, from Toscanini's personal collection, was passed down from Toscanini to Richard Gardner, his sound engineer, who in turn gave it to our archivist and sound engineer, Richard Caniell. A stupendous performance! Bonus: All Verdi NBC Concert, 31 January 1943 with Peerce, Della Chiesa, Moscona and chorus. The concert includes music from Forza del Destino, Nabucco, Traviata, Otello and the first U.S. performances of Hymn of the Nations in an electrifying performance. Much of this program has not been previously released.
Top
---
FROM THE "OPERA HOUSE OF OUR DREAMS" SERIES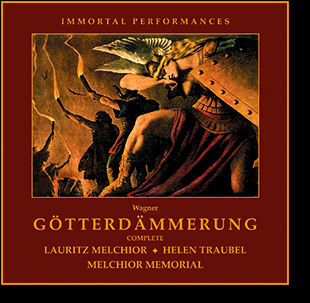 GÖTTERDÄMMERUNG
Chorus & Orchestra of the Metropolitan Opera
MELCHIOR MEMORIAL
LAURITZ MELCHIOR - HELEN TRAUBEL
Janssen, Resnik, Harshaw, Ernster, Pechner
Various Conductors
Commentary by Milton Cross
Bonus:
Interview with Lauritz Melchior in his 80s
Click here to see back of album
A much laboured upon restoration and re-creation of Melchior's final performance as Siegfried which occurred on 20 December 1948 at the Metropolitan Opera. Superb sound overall. This 4 CD set comes with a 56 page booklet, with articles about the performance and the composer, as well as a full track-related synopsis, biographies and rare photographs. An unforgettable memento of the final days of the Wagner Golden Age at the Met.
Top
---
RARE RECORDINGS FROM THE NEW YORK PHILHARMONIC SERIES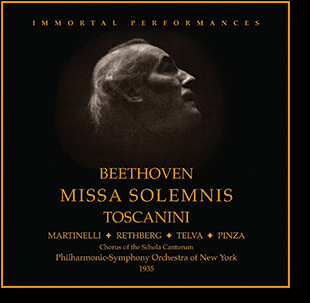 ARTURO TOSCANINI
Philharmonic-Symphony Orchestra of New York
28 April 1935
MISSA SOLEMNIS
Martinelli, Rethberg, Telva, Pinza
Chorus of the Schola Cantorum
Bonus:
1935 Met Simon Boccanegra
Act I, Scene 1 complete
Rethberg, Martinelli, Pinza, Tibbett
This important performance, previously published in exceedingly poor, off-pitch sound, is here offered in a sonically restored edition. The booklet text is by John Steane, the article about the composer and the Missa is by Richard Caniell, as are the extensive Recording Notes. The bonus offers the complete Act I, Scene 1 of Simon Boccanegra, Met 1935, a conjunction suggested by Mr. Steane as an interesting contrast in hearing two performances by Martinelli, Rethberg and Pinza in the same year. The album also offers two short interviews with Rethberg and Martinelli about their experience with Toscanini, together with photos of the singers in both broadcasts making this an album to treasure.
Top
---
A TRULY REPRESENTATIVE PERFORMANCE FROM THE LATTER DAYS OF THE GOLDEN AGE AT THE MET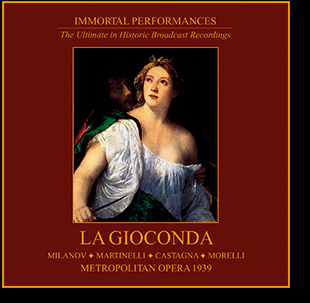 LA GIOCONDA
Chorus & Orchestra of the Metropolitan Opera
30 December 1939
Milanov, Martinelli, Castagna, Morelli, Moscona, Kaskas
Ettore Panizza, conductor
Bonus:
Never Previously Published:
Interview with Zinka Milanov, 1959
Also: Martinelli speaks of Martinelli
and
Ponchielli's I Lituani: Finale to Act III
The 1939 Met broadcast offered some of the most memorable singing by Milanov ever recorded. This, with the plenitude of Martinelli's Enzo recreates the opera with stirring dramatic eloquence. Offers the best sound, with commentary by Milton Cross. 3 CD set with a 40 page booklet, an article about the performance (by John Steane) and the composer (by Richard Caniell), as well as a full track-related synopsis, biographies and rare photographs. A great memento of a much revered era.
Top
---
INTRODUCING OUR FAMOUS VOICES FROM THE PAST SERIES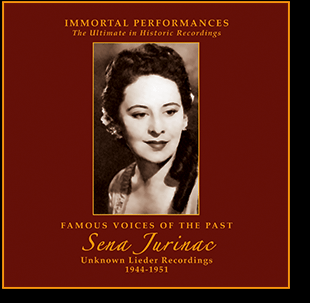 SENA JURINAC
UNKNOWN LIEDER RECORDINGS
1944-1951
Greig, Respighi, Wagner, Schubert, Mendelssohn, R. Strauss, Marx, Reger
Also
R. Strauss Four Last Songs
Radio Copenhagen / Fritz Busch
1951 (Never before published)
OPERATIC ARIAS AND DUETS
1949-1952
Gasparone - Fledermaus - Nozze - Carmen - Bohème - Madame Butterfly - Bartered Bride - Otello - Manon
One of the great voices of the latter half of the past century. Jurinac is heard in previously unknown recordings of lieder, recorded between 1945 and 1951. The second CD is composed of arias and duets from famous operas. Includes an article about Sena Jurinac by Tully Potter, "The Early Prime of Sena Jurinac: A Personal View". First in a new series.
CLICK HERE for German texts and translations of most of the Unknown Leider (Sena Jurinac) on CD 1.
Top
---